The country's biggest names in tech have seen their value drop this spring, while the industry is laying off workers or leaving jobs open ahead of a feared recession.
But in Utah, tech companies with the biggest workforces generally say they're optimistic — and hiring.
There are 29 businesses in Utah that are classified as tech companies and report having at least 500 employees, according to a new analysis from the Kem C. Gardner Policy Institute at the University of Utah.
That's an increase from 2018, when 25 tech companies reported having at least 500 jobs. Of those 25 companies, all but five remain on the updated list, although some of their names have changed —typically after mergers or acquisitions.
Here's a look at the lists — plus 10 more tech companies that may have reached 500 employees in 2021, though state data isn't precise enough to make that certain.
Amazon is No. 1
Amazon wasn't on the list in 2018, making it one of 10 newcomers.
But since its first center in Utah debuted in 2019, it's opened more than a dozen sites, including corporate offices —and become the state's top tech employer.
This list is based on federal classifications for companies. So while these are considered tech businesses, their employees are not all tech workers — Amazon, for example, hires mostly warehouse staff in Utah.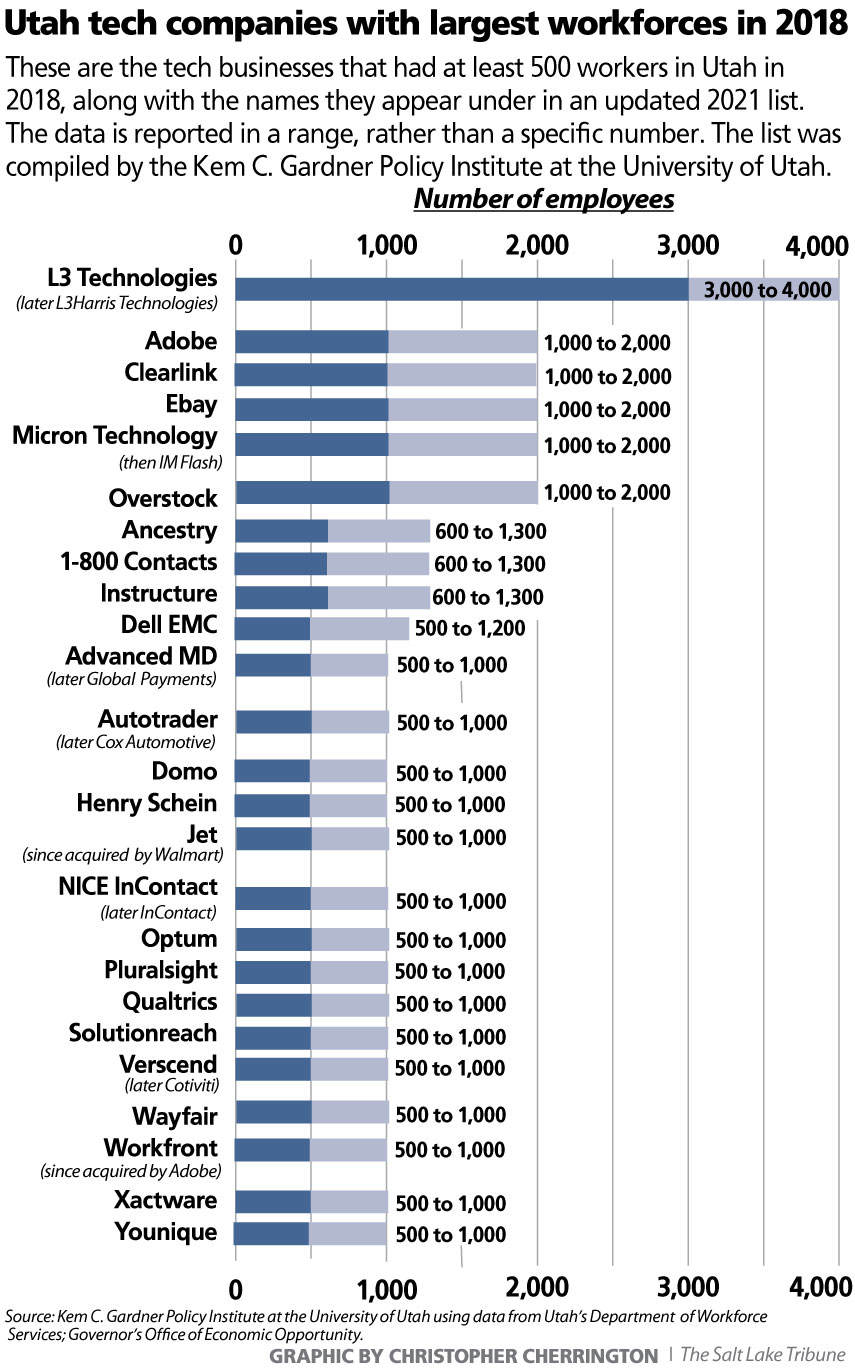 Amazon had 6,100 to 9,300 employees in Utah in 2021, according to the institute's analysis of Utah Department of Workforce Services data, which is reported in ranges. (If a business had multiple locations, the institute combined them.)
Amazon spokesperson Natalie Banke broke down the numbers in an email. The company has "more than 5,000 employees across its operations network and over 250 corporate employees in Salt Lake City," she said.
Amazon has created "8,000 full-time and part-time jobs in Utah," she added.
The Seattle-based tech giant has collected multiple deals for potential tax breaks in the millions as it's expanded in Utah, promising to pay higher than average wages for some jobs. State economic development officials do not report whether companies hit the required benchmarks, however, or how much they successfully claim in tax rebates.
Amazon recently said it has an excess of warehouse space nationally, which caused it to lose billions of dollars in the first quarter of this year.
But Banke said Amazon still anticipates more jobs will be available in Utah in the next five years, though she didn't have precise numbers. Completion of the company's latest site, a warehouse in Marriott-Slaterville, has been delayed, but the company expects it to create more than 150 jobs in the area, Banke said.
Last week, reporters toured Amazon's new same-day fulfillment center in Salt Lake City ahead of the expected surge of orders on Prime Day, which begins Tuesday and ends Wednesday.
"We're still hiring associates and we'll probably grow our workforce by maybe another 50 plus associates, as we go through the year," said Steve Volk, the site lead at the facility.
Now No. 2: Defense contractor L3Harris Technologies
In 2018, L3 Technologies was Utah's biggest tech employer — with a staff of 3,000 to 4,000 working on surveillance and communication products for customers that included the Department of Defense, intelligence agencies, NASA and the aerospace industry.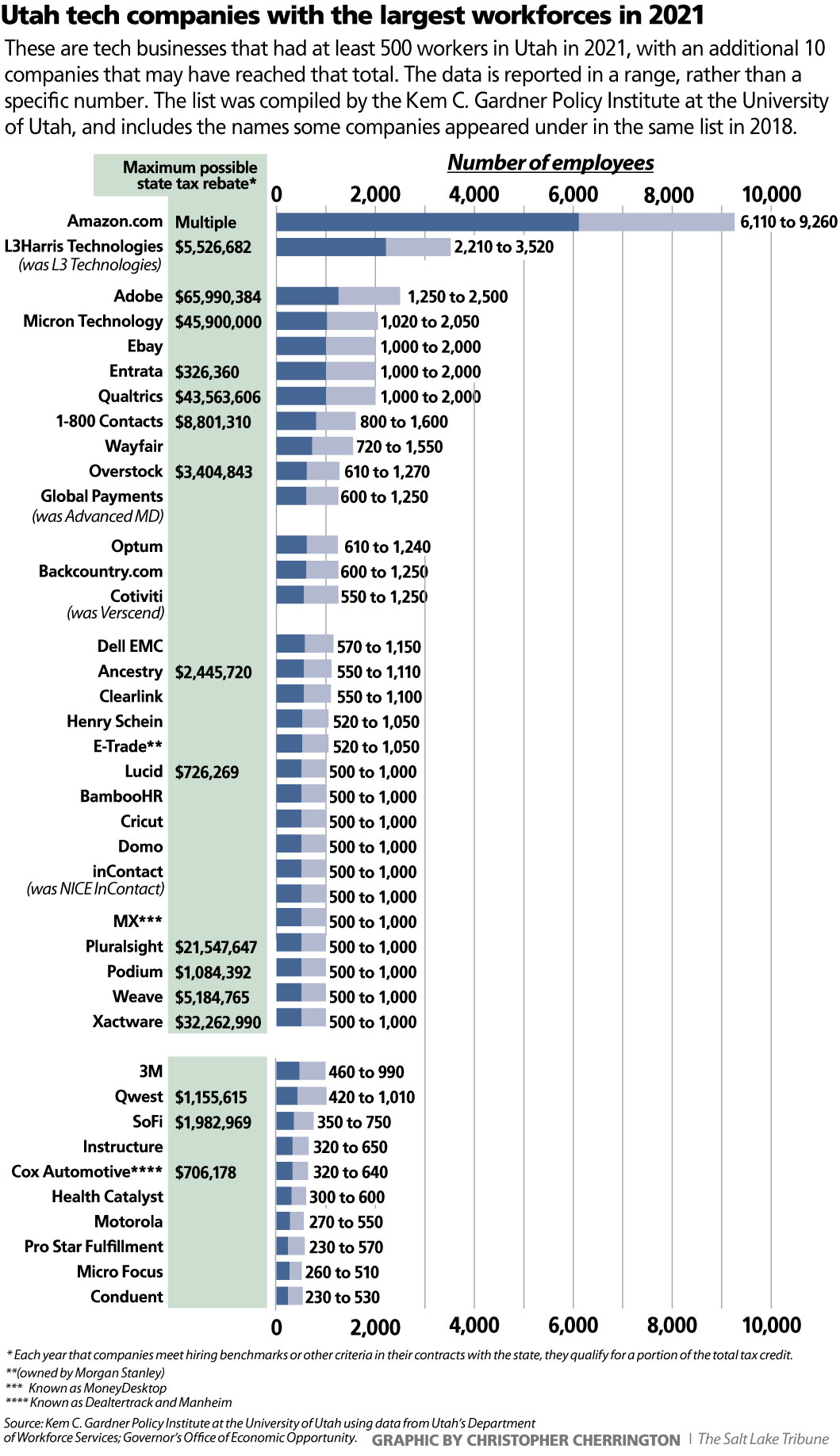 The next year, it announced an expansion of its operations in Utah, including plans for a new $50 million facility to replace a manufacturing site it had used since 1956. The state offered a tax incentive deal in connection with the investment and additional jobs.
In 2019, it also merged with Harris Corp. to become L3Harris Technologies, based in Melbourne, Fla.
The next year, it received a five-year, $500 million government contract for the Air Force and Army Anti-jam Modem, which provides secure communications for "tactical satellite communication operations." A significant amount of the modem's development will occur in Salt Lake City, Deseret News reported.
In 2021, L3Harris Technologies reported a workforce range in Utah of 2,210 to 3,520 jobs. It has posted job openings in Utah this month, but didn't respond to a request for comment on its hiring outlook in the state.
The company last month was in controversial talks to potentially acquire the surveillance technology of a controversial Israeli hacking organization, according to joint reporting by The Washington Post, the Guardian and Haaretz.
Growth at Adobe
Although Amazon's ascension pushed Adobe down to third place, its workforce range has grown — from between 1,000 to 2,000 employees in 2018, to at least 1,250 and up to 2,500 in 2021.
As of early June, Adobe had about 2,000 employees in Utah, said a spokesperson for the company.
"Utah is a key growth site for Adobe and we plan to continue growing our employee base and hiring locally,'' Jonathan Francom, Adobe's vice president of Employee & Workplace Solutions, said through the spokesperson. "We've recently expanded our Lehi site by 100,000 square feet … making it Adobe's second largest U.S. office location."
Adobe is also behind one company's disappearance from the list. Workfront in Lehi, which makes software for managing office work and had between 500 and 1,000 employees in 2018, was acquired by Adobe in 2020.
Jet, an online, fast-delivery shopping service based in Draper, also vanished, because it was acquired by Walmart.
More big names
Four more companies reported having at least 1,000 employees in 2021: Micron Technology, Ebay, Entrata and Qualtrics.
But tech can move faster than employment data. Micron, which manufactures computer memory and hard drives, sold its microchip production plant in Lehi that year to electronics company Texas Instruments.
"All Micron Lehi site employees were offered the opportunity to become [Texas Instruments] employees upon completion of the sale," said Ellen Fishpaw, a spokesperson for Texas Instruments. Micron had previously bought out IM Flash — an Intel-owned microchip company on the 2018 list.
Qualtrics, which provides software that lets companies make web-based surveys and reports, said it had up to 1,000 employees in 2018. It was purchased later that year by SAP, a German multinational giant in cloud and business-services software, and its initial public offering last year brought in $1.55 billion, the largest transaction of its kind in Utah history.
It now employs 1,400 people at its Provo office, a company spokesperson said. Most would be considered tech workers, and the company is still actively hiring, she said.
At least 36% of the company's employees identify as women, according to the company's 2021 Diversity Equity and Inclusion report. Women make up about 21% of science, tech, engineering and math related jobs in Utah, and about 27% nationally.
Companies with around (or under) 1,000 employees
The rest of the companies reported ranges that mean they may have less than 1,000 employees.
Overstock.com, for example, reported a 2021 range of 610 to 1,270 workers. But CEO Jonathan Johnson said through a spokesperson that the Utah-based online retailer has about 1,300 employees total, with 1,000 working in Utah since it began allowing remote work. The company has 107 open positions and 41% of its jobs are tech-based, the spokesperson said.
The largest newcomer in this size range is Backcountry.com, an online outdoor equipment retailer which has an estimated 600 and 1,250 employees.
Other businesses new to the list include workplace software companies Lucid, Podium, Weave and BambooHR, and Cricut, creator of computer-controlled cutting machines, all with 500 to 1,000 employees.
Some companies may look like newcomers when they aren't. AdvancedMD, which sold medical office software, was on the 2018 list with 500 to 1,000 employees. It has since been acquired by Global Payments, which provides software for financial transactions and reported between 600 and 1,250 Utah employees in 2021.
Healthcare data company Verscend had 500 to 1,000 jobs in 2018, then acquired health analytics company Cotiviti. The company appears as Cotiviti on the 2021 list, with 550 to 1,250 employees.
Henry Schein One, a dental software company owned by dental equipment manufacturer Henry Schein Inc., has 600 employees in Utah, said CEO Mike Baird, via a spokesperson. It hopes to grow inside and outside the state, targeting "software engineers, architects, IT and data engineers, and project managers, among other roles," he said.
The company 3M, which produces almost everything from tape and adhesives to medical equipment, has between 460 to 990 employees in Utah. But it has said it will hire hundreds of people per year for the next five years for its 3M Health IT office based in Salt Lake City. 3M Health IT makes medical software, though it's not clear what proportion of the jobs may be remote.
Tech companies are growing faster in Utah
Tech is not Utah's biggest employer — even Amazon's workforce places it well below top employers like state government, the University of Utah and Intermountain Healthcare, which has 42,000 employees, according to a spokesperson for the company.
But tech companies are providing an increasing share of private sector jobs in Utah, and that share is growing in Utah at a pace faster than in the nation, according to the Kem C. Gardner Policy Institute.
The tech industry's share of the state's private workforce ticked up by 0.1% last year, while the U.S. held steady.
Utah taxpayers are investing in tech
At least 16 of the companies on the list have received tax incentives from the Governor's Office of Economic Opportunity (Go Utah).
Each year that companies meet the hiring benchmarks or other criteria in their contracts with the state, they qualify for a portion of the total tax credit.
Amazon has deals connected to its warehouses. And Amazon Web Services, a subsidiary focused on cloud computing, was offered the chance to earn up to nearly $2.5 million in total tax rebates in 2019, provided it kept pace in creating 300 highly-skilled jobs in Utah over next ten years.
Qualtrics, Pluralsight and Domo, which all went public in 2018, each received deals: Qualtrics may have claimed more than $10 million in rebates for 1,080 jobs over seven years from a 2012 deal, and more than $32 million for 2,245 jobs over a decade starting in 2019; Pluralsight, which sells subscriptions to its training software, may get rebates of more than $21 million for 2,464 jobs over 10 years, starting in 2017.
Domo, which sells business analytics software, was offered tax incentives in 2021 worth up to $23 million to provide more jobs in Utah over 10 years. Utah officials launched an investigation after Domo's then-CEO suggested the company had received the money to stay in Utah despite having no plans to relocate.
The investigation found that though the chair of Go Utah was on Domo's board, she recused herself from decisions regarding the company and the company had not breached its contract with the state.
The company Entrata, which makes software for property management, was offered a maximum of $326,360 in incentives to create 191 jobs over five years. The company has about 2,200 workers, approximately 45% of which are tech employees, and the company "is looking to fill hundreds of job openings across the company as it expands…" said the CEO Adam Edmunds via a spokesperson.
The company's former CEO was fired after pushing antisemitic conspiracy theories.
Adobe, the software giant, was offered more than $40 million in potential incentives in 2010 to provide 927 jobs over two decades, and in 2017 was offered another over $25 million in additional rebates for 1,260 jobs, also over 20 years. IM Flash, which was bought out by Micron Technology, was offered an incentive contract in 2011 to create 200 jobs over fifteen years for up to $45.9 million in tax credits.
And Xactware, which provides software for estimating building and renovation costs, was offered more than $32 million in possible tax rebates.
Leto Sapunar is a Report for America corps member covering business accountability and sustainability for The Salt Lake Tribune. Your donation to match our RFA grant helps keep him writing stories like this one; please consider making a tax-deductible gift of any amount today by clicking here.