When Kaysville City began pitching the creation of a municipal-owned fiber optic network as a "necessity of the 21st century" akin to roads, power lines and water pipes, the coronavirus hadn't yet upended many people's relationship to the internet.
Now, a vote on the 30-year, $22 million bond that would be necessary to create the network will come after months of Zoom meetings, online schooling and working from home — conditions proponents hope will help their neighbors see the value of the proposal and give it an extra boost at the ballot box next month.
"I personally had residents who previously were either unsure of the project or were opposed, which is fine, now they said, 'Oh I see what you guys were getting at. This is essential,'" Kaysville City Councilwoman Michelle Barber said in an interview. "It's not fair that some of us can function in the city and some of us can't. COVID-19 has been a really poignant case study."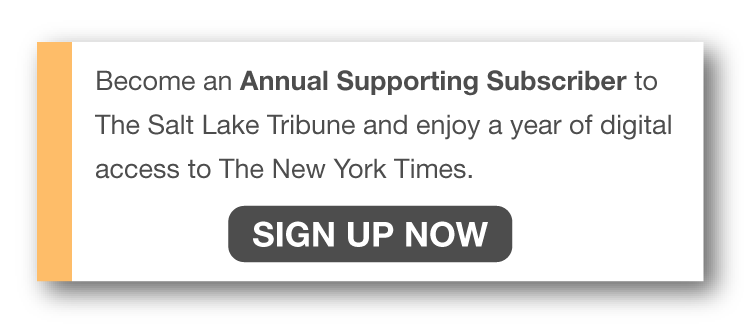 As the vote nears, some city leaders and a coalition of Kaysville residents known as Citizens for Kaysville Fiber have been urging a "yes" vote, arguing the internet is an essential part of modern life and that the project could drive down the cost to connect by introducing more competition into the market.
On the other side is the Coalition for Responsible Kaysville Fiber, a group that notes the bond could ultimately double the city's annual non-power revenue and that questions the timing of such a big financial decision when the pandemic has rocked the economy.
The opposition group is also positioning support for Kaysville Fiber as a vote "for big government" and "liberal Democrat policies," arguing the city's fiber webpage reads like the 2020 Democratic Party Platform on internet access.
"Kaysville City, like the Democrats, is taking action to ensure that internet is not optional and all Kaysvillians will have access to high speed affordable broadband service whether they want it or not," the coalition writes on its website. "Vote Against Liberal Policies, Vote Against Kaysville Fiber."
If the project is approved by voters, construction would begin immediately, with a targeted completion date of two years. Fiber would then be available to every home and business in the city, though it's up to individuals to decide whether to subscribe and pay a monthly fee.
To be self-sustaining, the city estimates it needs between 38% to 44% of all city residents to participate, or around 4,200 subscriptions. A higher subscription rate would help the city pay off the bond sooner, with a "best case" scenario of 64% to 74% of residents participating and a pay-off date of around 15 years.
Those numbers exclude businesses, which are also expected to reduce the number of household subscribers needed.
The city says on a website providing information about the fiber project that it expects a mid-range scenario, in which between 50% to 58% of Kaysville residents subscribe and the bond is paid off in around 22 years. That estimate is based on national take-rates for municipal fiber systems.
As part of the project, residents who opt in would have the ability to choose from a variety of speeds that also range in cost. The slowest internet service would cost nearly $40 a month (and discounts are available for low-income qualified residents) while the fastest would reach a high of nearly $240. After the bond is paid off, those costs will drop, the city says.
Despite those promises, opponents warned during a Kaysville City Council meeting Thursday in which both sides had a chance to argue their positions that there is a scenario in which the proposal passes but not enough people subscribe.
At that point, the city has pledged its sales and franchise taxes as a guarantee that the bond will be repaid — meaning even residents who hadn't supported the project could be on the hook financially.
Josh Sundloff, a Kaysville resident who spoke against fiber, said he understands the need for municipal governments to take on debt for tangible assets with long-lasting benefits.
"But it's an entirely different matter to invest in something so uncertain and ever changing as technology," he said.
Sundloff also argued that the project would result in "misplaced city priorities," taking focus away from core municipal functions like public safety and transportation.
Jacob Willoughby, a member of the Citizens for Kaysville Fiber group, spoke for the bond Thursday and pushed back on the idea that the technology will quickly become obsolete, noting that technological advancements are often "incremental."
"It is highly unlikely that fiber becomes useless over night," he said. "For example, the copper wires many residents in Kaysville use to get internet today are the same ones they used for dial up 30 years ago. Likewise, the protocols and equipment for fiber will definitely change and evolve in 30 years but the glass fiber in the ground will still be required."
The status quo, Willoughby argued, benefits the "current telecom companies who are fighting this project," while increased competition and choice from the project would benefit all residents.
At the end of last year, the Kaysville City Council was moving forward with a $26 million bond and a fee-based fiber optic model. Under that model, residents could choose to opt out of the project but would have still been required to pay a monthly fee on their utility bill. And voters weren't allowed a say on the proposal, which city leaders at the time were presenting as an "infrastructure project" that would not go on the ballot.
The project shifted drastically after an almost entirely new City Council took over in January, comprised of people who had pledged as candidates to put the issue up for a vote. At that point, the city paused, revamped the project to ensure only those who want the service have to pay for it, and decided to leave the future of fiber up to the voters.