Travelers coming and going from Salt Lake City International Airport have dropped considerably in 2020, but that hasn't kept the coronavirus away.
Airport employees account for 113 COVID-19 cases so far, according to the Salt Lake County Health Department. That doesn't count the 53 construction workers building the new airport who got sick, too.
Amazon has been hiring since mid-March and some of those new employees are probably among the 106 workers across three Amazon facilities In Salt Lake County reported to have contracted COVID-19.
The Salt Lake Temple is a sacred site to members of The Church of Jesus Christ of Latter-day Saints. The virus doesn't care. Eleven workers renovating the temple have contracted COVID-19.
The Salt Lake County Health Department has released a new list of workplaces that have had outbreaks in response to a public records request. While warehouses, manufacturing facilities and construction sites have been the hardest hit, the data shows how SARS-CoV-2 has permeated every employment sector.
The list, released Friday, includes retailers, firehouses, law offices, bars, restaurants, country clubs and even some of the laboratories conducting coronavirus testing. The best-known business in the Beehive State is listed there, too — two positive cases for the Utah Jazz. Players Donovan Mitchell and Rudy Gobert contracted COVID-19 in March.
[Click here for the complete list of work sites that have had COVID-19 outbreaks, according to the Salt Lake County Health Department.]
Salt Lake County omitted nursing homes, day cares, schools and correctional facilities that have had outbreaks, saying they are kept on a different reporting system. Still, the list includes 565 workplaces that have met the health department's definition of an outbreak — at least two cases where workers are suspected to have contracted the disease on the job.
When plotted in a map, the outbreaks concentrate along Salt Lake County's freeways — cherished real estate for enterprise. Hot spots also can be seen among businesses close to the residential neighborhoods most impacted by the pandemic.
There have been clusters at businesses on Salt Lake City's west side as well as in West Valley City. Those communities have high proportions of residents who have one or more jobs they can't do from home, said Dede Vilven, an epidemiologist at the Salt Lake County Health Department.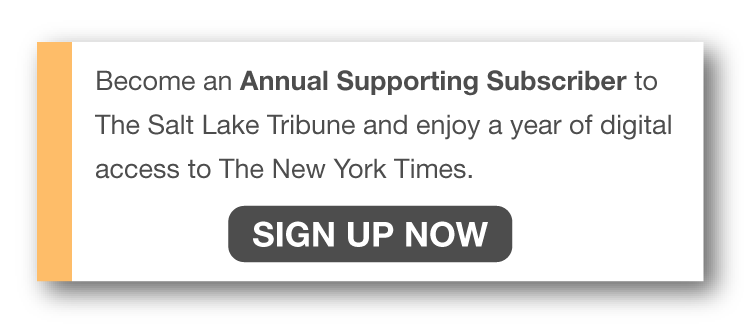 Sometimes, workers in those communities take the virus home and sometimes the workers bring it from home and infect their co-workers, she said. The workplace infections then contribute to rates of community infection and vice versa.
"It makes sense they would overlap or kind of mirror each other," Vilven said.
Vilven said the workplace infection data was compiled by questioning the 31,000 Salt Lake County residents who have tested positive. The work site outbreaks account for about 10% of those cases.
Outbreaks at Salt Lake City International Airport have been documented. Airport administrators warned in July that infections among construction workers threatened the on-time opening of the renovated airport. Construction crews met their deadlines and the airport opened last month.
The health department identified big outbreaks at a lesser-known work site, too. Visible Supply Chain Management, a shipping and supply chain company with a facility in West Jordan, reported 74 cases.
John Dudash, chief marketing officer at Visible, said the company had cases early in the pandemic, but it sent workers home and implemented more precautions. Those who can work from home must do so, he said, and anyone who goes into the facility must wear a mask.
Anyone with symptoms cannot come to work, Dudash said. Visible has paid employees $250,000 in leave related to COVID-19, he said.
"We put a number of measures in place," Dudash said, "and as a result we have seen a precipitous drop in positive cases."
The medical testing company ARUP Laboratories, which has been testing coronavirus samples, has had 28 positive cases among its workers, according to the health department. The company's CEO, Dr. Sherrie Perkins, said that figure represents about 2% of its workforce.
ARUP has a clinic that offers free primary care to all employees and their families. The clinic instituted a comprehensive COVID-19 testing, contact tracing, and management program at the start of the pandemic.
"With the exception of a single episode of employee-to-employee transmission early in the pandemic, all other cases have been community acquired," Perkins said in a statement. "All employees with positive test results have followed careful treatment and return-to-work plans managed by ARUP's clinic.
The Church of Jesus Christ of Latter-day Saints closed its Salt Lake Temple in late December 2019 for a four-year renovation. The health department identified 11 coronavirus cases on the job site among employees of the general contractor, Jacobsen Construction, and subcontractors.
Church spokesman Daniel Woodruff said the pandemic has not impacted work at the temple. Jacobsen Construction issued a statement saying the health and safety of work crews is of the "utmost importance."
Face coverings are required, the statement said, workers must submit to multiple temperature checks throughout the day, and there are hand-sanitizing stations, among other precautions meant to prevent infections.
"We are not currently experiencing a spike in cases," Jacobsen Construction's statement said, "with only one positive test result in the last month. We will continue to require strict safety compliance from our teams as additional pandemic guidelines are announced."
The Salt Lake County Health Department has published a manual for businesses to keep employees and customers safe during the pandemic. Local governments as well as the state have made personal protective equipment and hand sanitizers available to businesses that can't afford them or have had trouble finding them.
For people who do contract COVID-19 on the job, a bill signed in May by Gov. Gary Herbert largely shields employers from liability. The statute says employers can still be sued if they commit "willful misconduct," "reckless infliction of harm" or "intentional infliction of harm." That is a higher standard than in other types of workplace injuries.
Jeff Worthington, president of Utah AFL-CIO, says he is not satisfied with protections for workers. He believes employers have little incentive to keep sick workers home, and that there still isn't enough communication with workers and midlevel managers about what they should do when they risk exposure to the virus.
Worthington said he has fielded calls from construction employees who say there's someone on the job site showing symptoms of COVID-19. That worker should report the problem to the foreman, Worthington said, and then take it up with the general contractor if the symptomatic person isn't removed from the job.
"It's quite simple," Worthington said. "If you have someone who's sick, get them the hell off the job."
Vilven believes employers are becoming more knowledgeable about preventing COVID-19.
"You hope," she said, "that people care enough about their employees to do the right thing."