Lt. Gov. Spencer Cox and Chris Peterson, rivals to become Utah's next governor, agreed Tuesday evening that preserving in-person education where possible is important for the state's young people, despite the challenges that COVID-19 presents.
But Cox took a more hard-line stance than his opponent during the prime-time debate, arguing that keeping schools open is more than preferable — it's essential.
"The Salt Lake City School District is the only school district in the state that has not gone back to in-person learning," Cox, the Republican nominee for governor, said. "And that's a huge mistake. It is damaging our kids, and that needs to change right now."
Coronavirus cases have spiked among Utah's teens and college-age adults in Utah, driving infection numbers to record levels in Utah and forcing the closure of several high schools. However, Cox said the impacts of virtual learning can be even more harmful than the disease, especially for students who live in low-income communities and those who are disabled.
Peterson advocated for a more gradual approach to sending children back to school. If he'd been in charge, the Democrat said, he would've resumed in-person classes for younger students first.
"Because they are the ones that have the hardest time with distance learning and also seem to have the best immune response to the disease," Peterson said.
The governor candidates event, hosted by the Utah Debate Commission, kicked off at 6 p.m., just before the first presidential debate between President Donald Trump and Democrat Joe Biden.
Cox, the Republican nominee, stepped onto the debate stage with a significant advantage over his Democratic opponent; a Utah Debate Commission poll conducted in advance of the event found that the lieutenant governor led Peterson by 55% to 19.6% among likely voters. The survey was conducted Aug. 31 to Sept. 12 and had a margin of error of plus or minus 4.38%.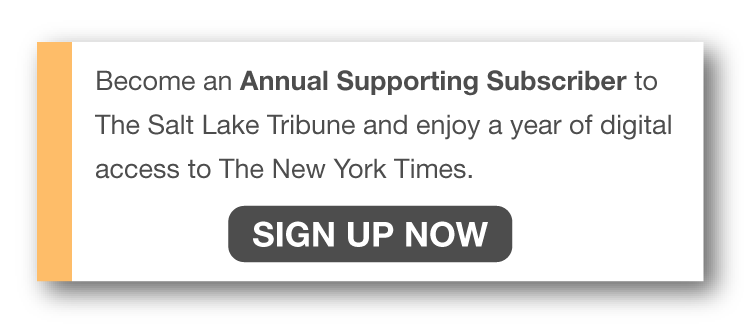 Still, Peterson, a University of Utah law professor, has tried to cast himself as a moderate Democrat in the tradition of Scott Matheson, the state's last Democratic governor who was reelected to his final term in 1980. He's also directed criticism at Gov. Gary Herbert's administration and Cox in particular for their response to COVID-19.
Cox, in turn, has highlighted Utah's comparatively low fatality rate during the pandemic and its ability to protect the economy from the devastation that other states have experienced. On Tuesday, he also expressed support for Herbert's decision not to issue a statewide mask mandate.
The candidates spent a significant portion of the debate sparring over money for education, though they both supported increasing public school investments in Utah, which year after year has the nation's lowest per-pupil funding levels.
Cox focused on inequity as one of the major problems in Utah's education funding system, stressing that students in affluent areas often have access to greater resources than children in some rural or lower-income communities.
"We have to make sure that kids in rural Utah, as well as the west side of the Salt Lake Valley, get the same opportunities, the same education as kids in Park City," he said.
However, Peterson wondered whether Cox's solution to these disparities might involve diverting money away from some children and redistributing it to others.
"I don't believe that what we should be doing is having our kids fighting over scraps," he said. "We need to get everybody up and equal and then add additional funding."
The lieutenant governor said his equity plan does not call for taking funding away from wealthier school districts, but he did advocate for a "more circumspect" approach to supporting public education. Speaking to reporters after the debate, Cox suggested he'd consider divvying up royalties from the state's public lands in a way that benefits lower-funded schools.
He also criticized the "perverse incentives" that lead to excess spending on "palatial schools," while teachers go underpaid and students suffer from lack of supplies.
But since any plan will demand collaboration with the Legislature, Cox said he wants to engage in discussions with them before detailing any concrete proposal.
Peterson, on the other hand, spoke about reforming Utah's flat income tax structure so that wealthy Utahns would have to contribute more than lower- or middle-income residents.
"We made a big mistake when we went to a flat tax, where the very most wealthy people who are [making] $2 million a year are paying the same income tax rate as a single mom who's just barely fighting to get by," he said.
Such an overhaul could end up amounting to an increase, he told reporters after the debate, but it could also be revenue-neutral by simply rebalancing the tax burden. As governor, Peterson said he'd also look at closing loopholes and eliminating tax breaks in order to generate more money for education.
Cox said he would not raise taxes as governor.
Peterson also said he'll vote against Amendment G, a ballot measure that would weaken the constitutional restrictions that dedicate income tax dollars to public and higher education.
The amendment — which would allow lawmakers to spend income tax money on supporting children and individuals with disabilities — could have the consequence of pitting two critical priorities against one another during state budget discussions, Peterson argued.
"My concern is that it's going to start to create competition between disabled people and the public school kids," he said. "Let's just fund both of them."
Cox said as governor he would make good on the commitments that Utah leaders made during negotiations that led to Amendment G.
Lawmakers earlier this year won the support of the Utah Education Association in part by pledging to deliver a 6% increase in per-student funding in the current budget. Those plans later fell by the wayside when the COVID-related economic shutdowns put a dent in the budget and forced legislators to make sweeping spending cuts.
However, passage of the constitutional change still triggers the implementation of HB357, a bill that would provide for ongoing education funding and additional money tied to growth in student enrollment and inflation. That statutory obligation is one of the main reasons the UEA says it's supporting Amendment G.
"As your governor, I will make sure that those promises are kept," Cox said. "It's absolutely critical that education funding is our first and foremost priority."
Utahns will choose their next governor on Nov. 3.