The Antiquities Act of 1906 has been keeping natural resource attorneys busy since Theodore Roosevelt used the law to protect millions of acres of public land across the Southwest during his presidency, often over the vehement opposition of the congressmen in those states.
President Joe Biden's decision Friday to return nearly 2 million acres of federal land to Grand Staircase-Escalante and Bears Ears national monuments is not likely to be an exception to this trend. Utah Gov. Spencer Cox indicated in April that the state would likely sue Biden if he restored the monuments, though the Utah Attorney General's office had not yet done so as of Sunday.
Even before the order was signed, however, it drew strong rebuke from Utah's all-Republican congressional delegation, who said the president's action "fanned the flames of controversy."
"We think this is definitely an abuse of power of the Antiquities Act," Utah Solicitor General Melissa Holyoak told FOX 13 on Friday, confirming Cox's earlier comments that litigation can be expected. "Expansion [of Bears Ears] to Obama boundaries where it's basically the size of Delaware seems to be a gross abuse of that authority."
An 'uphill battle' for Utah
John Ruple, research professor of law and Wallace Stegner Center fellow at the University of Utah, said opponents of national monuments have been making — and losing — that same argument in federal court for over 100 years.
"It feels like a foregone conclusion that Utah or somebody else will sue challenging the new monument boundaries," he said. But Ruple added any such case will be an "uphill battle."
The Antiquities Act clearly states that presidents have the authority to create national monuments, and the U.S. Supreme Court has repeatedly upheld that authority since 1920 when it first heard a case challenging the creation of a 808,120-acre Grand Canyon National Monument.
The administration of former President Donald Trump attempted to justify its monument reductions in 2017 by pointing to language in the Antiquities Act that says the law can be invoked to protect "objects of historic and scientific interest," using the "smallest area compatible with the proper care and management of the objects to be protected."
But no legal challenge to a national monument has ever succeeded in arguing that a designation was too large under the law, Ruple said, including when Utah sued the administration of former President Bill Clinton after he created the 1.88 million-acre Grand Staircase-Escalante National Monument in 1996.
"The courts have universally embraced a broad definition of objects going back to at least 1920," Ruple said. That's when the Supreme Court accepted that the Grand Canyon — the entire geographic feature — could be considered an object. Since then, courts have accepted that large ecosystems and habitat for rare wildlife species are also objects.
"The popular argument that objects are somehow confined to unique Ancestral Puebloan dwellings or artifacts or something to that effect — I think that's mistaken," Ruple said.
Gavin Noyes, national campaigns director for the Conservation Lands Foundation, told reporters Friday that former President Barack Obama's 2016 proclamation designating Bears Ears — which came at the request of five tribal governments with ties to the region — further expanded the definition of "object" under the 1906 law.
"Bears Ears did something that no other national monument has ever done," he said. Under the order, "the federal government is required to protect the relationship between the Indigenous people of Bears Ears and the land itself."
The language of the proclamation, which was echoed in Biden's more recent order, emphasizes that the monument area does not just contain hundreds of thousands of archeological sites and artifacts but that it is a living part of the Hopi, Zuni, Ute Mountain Ute, Ute Indian and Diné cultures.
"The land managers have to protect this object above all the other uses of the land," Noyes said.
A new look at the Antiquities Act from the Supreme Court?
Opponents of Biden's monument order have repeatedly referenced a writ signed by Chief Justice John Roberts in March that indicated he would be open to hearing a case that monument designations are too large under the Antiquities Act.
Roberts' order was cited in a joint statement issued Thursday by Cox; Lt. Gov. Deidre Henderson; Attorney General Sean Reyes; Senate President J. Stuart Adams, R-Layton; and House Speaker Brad Wilson, R-Kaysville.
"As Chief Justice Roberts noted earlier this year," the Utah Republicans said, "the purpose of the Antiquities Act is to protect the 'smallest area compatible with the care and management' of significant archeological or historical objects to be protected. We agree and will consider all available legal options to that end."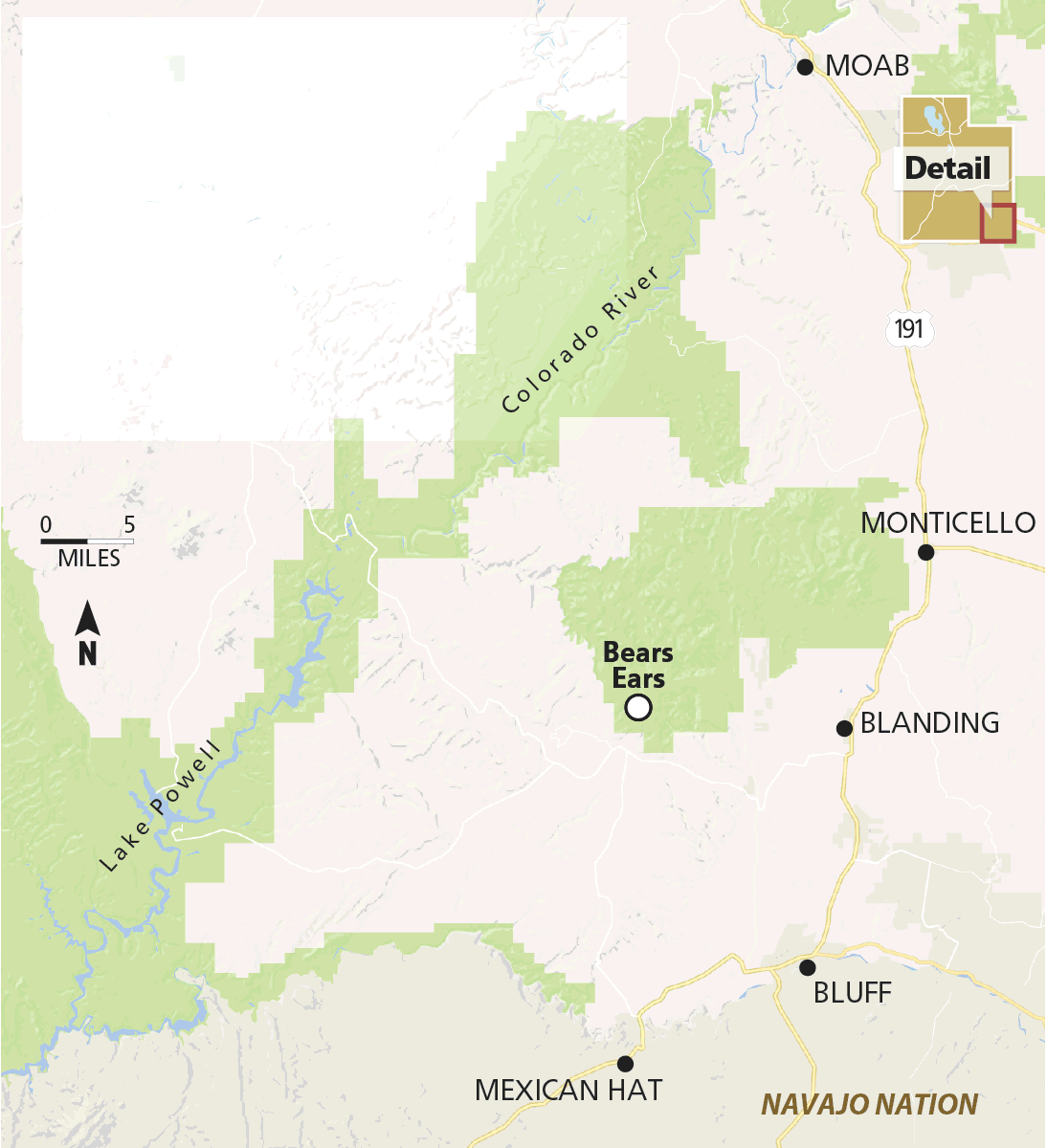 But Ruple thinks latching onto Roberts' opinion may be misguided. It was written only after the Supreme Court declined to hear a case challenging the size of the 3.1 million-acre Northeast Canyons and Seamounts Marine National Monument off the coast of Rhode Island, which Obama created in 2016.
To hear the case, the nation's highest court would have needed only four of nine justices to agree with Roberts, but that did not happen. And, Ruple noted, no other justices signed onto the memo.
"So we don't know if there's an appetite among the other justices to look at monument designations," he said. "Big monuments aren't anything new, so now to go back and call into question a practice that's been in place for more than a hundred years ... that feels very, very disruptive. And normally the court is reluctant to take that kind of disruptive action on broad issues."
A less settled question legally is whether a president has the authority under the Antiquities Act to unilaterally reduce national monuments. Lawsuits brought by the five tribes in the Bears Ears Inter-Tribal Coalition, a coalition of environmental groups and others, which challenged Trump's monument reductions, have been languishing in federal court since 2017. That case may be rendered moot by Biden's order.
Finding a 'legislative solution'
Thursday's joint statement from Utah's Congressional delegation condemned Biden for failing to find "a mutually beneficial and permanent legislative solution" to the monument issues, though previous efforts to that end have never materialized.
Former Rep. Rob Bishop, R-Utah, led a process known as the Public Lands Initiative that imploded in 2015 without producing a bill that could have made the Bears Ears region and other ecologically sensitive parts of Utah into national conservation areas while expediting mineral development elsewhere.
Rep. John Curtis, R-Utah, whose district includes Bears Ears, started a subsequent legislative effort in the wake of Trump's 2017 cuts, but it never made it to the floor of the House of Representatives. Curtis has continued to join his colleagues in repeatedly calling for a "legislative solution" to the monument issues.
For Ruple, this criticism of Biden rings hollow. "Utah's elected representatives can't blame the president for failing to sign a bill they never got around to drafting," he said. "If a member of Congress believes that their constituents are being harmed, that congressperson can craft a bill to fix the problem. They don't need an invitation from the president to go to work. Utah's politicians had years to come up with the legislative fix for Bears Ears, but they didn't."
Curtis' office did not respond to a request for comment.
Looking ahead
In an interview with The Tribune on Friday, Patagonia CEO Ryan Gellert said the outdoor clothing company, which sued Trump in 2017 over his monument cuts, will likely continue to be involved in legal battles.
"We're committed to this issue," he said, "to the ongoing and permanent protection of the area. So whatever that requires going forward, we intend to be a party to that."
Gellert added that national monuments in southern Utah are a key part of Biden's climate and conservation goals, including the president's pledge to protect 30% of the nation's land and waters by 2030.
Former Interior Secretary Bruce Babbitt, who served in the Clinton administration during the creation of Grand Staircase-Escalante National Monument, said conservation decisions that seem divisive at the time often become less controversial as time passes.
A poll conducted earlier this year by the Colorado College State of the Rockies Project found nearly three-quarters of Utahns supported restoring national monument protections. Babbitt predicts the opposition from the state's politicians will eventually fade away as well.
"As I look at the trajectory of Western history, I'm optimistic," Babbitt told The Tribune, noting that his grandfather was a leader in the fight against the creation of the Grand Canyon National Monument in the early 1900s.
"I believe we're going to come to a common understanding and appreciation," he said. "These monuments are going to bring people together. I predict that our grandchildren, both Indigenous and non-Indigenous, are all going to be telling stories of their role in this coming together on the Western landscape."
Zak Podmore is a Report for America corps member and writes about conflict and change in San Juan County for The Salt Lake Tribune. Your donation to match our RFA grant helps keep him writing stories like this one; please consider making a tax-deductible gift of any amount today by clicking here.