Bluff • For Nadia Armajo, a 15-year-old from the Navajo Nation community of Tselakai Dezza in southern San Juan County, the first semester of 10th grade hasn't been easy.
Armajo enrolled in the school district's virtual learning option in August along with 171 fellow students at Blanding's San Juan High School because she didn't feel safe returning to in-person classes in the county with the highest coronavirus mortality rate in Utah. The past several months have consisted of long, frustrating days on her school-issued Chromebook, Armajo said, grappling with unfamiliar programs and slow internet speeds. Teachers, stretched thin by being asked to lead both in-person and virtual classes, have not always been available when Armajo and her four siblings needed help.
"I am very fortunate to have internet," she added, noting that, even with the challenges, she's in a better position than many of her classmates. "People like my cousin, down where he lives [near the Arizona border], he does not have any internet."
The school district issued hot spots to students without internet, though they don't work everywhere and often run out of data. A $4 million project funded by the Utah Legislature to expand internet access for public school students on the Navajo Nation is currently underway and should greatly improve internet access, but its completion could be months away. And many students lack electricity altogether.
Due to those challenges and others, only 18% of secondary students enrolled in the virtual instruction option at schools in Blanding and Monticello are on track to pass their classes this semester, according to a report delivered by San Juan School District Superintendent Ron Nielson to the school board last week. The remaining 82% are either not attending the virtual lessons or are failing more than half their classes.
Citing the disheartening numbers and overworked staff, the board followed Nielson's recommendation Wednesday and voted to end the policy that allowed students like Armajo to opt in to virtual home learning. A letter was sent to parents Thursday, telling them the home instruction option was being discontinued, effective immediately.
An emailed request for comment sent to Nielson and voicemails left with his office Friday afternoon had not been returned by Monday.
Parents were told they had five days to decide whether to return to in-person classes or to enroll in a free, third-party home-school curriculum developed by the for-profit companies Edgenuity and Schools PLP in which the students' guardian would serve as their learning coach and be responsible for tracking progress.
Despite the difficulties Armajo has faced with the virtual instruction, she was passing her classes and wanted to continue that option through the semester. "I'm heartbroken and shattered," she said. "I'm in disbelief. It's just sad that we're left to this decision."
Crystal Police, Armajo's mother and a health care worker, said she was with an extremely ill patient in the intensive care unit when a school employee informed her of the news.
"I was very upset," Police said. "You have your patient dying and your school board calls to give me that information. My first thought was to my two girls in high school."
Long drives
Police said her daughters are careful about following health guidelines and she would consider the in-person option. But the Navajo Nation government, which has imposed restrictions and curfews since March to reduce the spread of COVID-19, has rules in place that don't allow school buses to run on the reservation.
Police was told parents would be responsible for driving students to the school, which is over 35 miles from her home, or to a bus stop north of the Navajo Nation boundary. "That's quite a long way to drive," she said. "The bus is very important because a lot of these students don't have transportation. That's their guarantee to go to school."
Armajo tried a home-school curriculum in middle school and felt it put her behind academically. And even if she could figure out transportation, she would be reluctant to return to class after seeing the devastation COVID-19 wrought on the Navajo Nation this summer. An elderly woman Armajo considered her grandmother caught the coronavirus at a Fourth of July parade in Blanding and died shortly afterward.
"I would be terrified [to return to class] because in Blanding nobody follows [Centers for Disease Control and Prevention] health guidelines," Armajo said. "Like recently they had a fall festival and nobody was following the guidelines." (Video from the festival posted to Blanding's Facebook page Oct. 10 shows dozens of mostly maskless people gathered in close proximity watching a hot dog eating contest.)
Nielson confirmed some of Armajo's worries Wednesday, when he told the school board that students have grown increasingly resistant to heeding mask mandates in hallways and elsewhere on campus over the past few weeks, and he announced Monticello High School has "a little bubble of a hot spot" with at least two students and four staffers testing positive last week.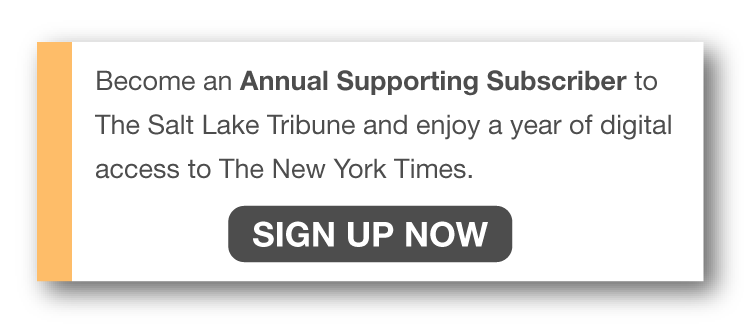 In the several hours between Nielson's presentation to the school board on discontinuing the virtual learning option Wednesday and the action item end of the meeting, Nielson said more cases had been confirmed in Monticello, where 91 students are currently enrolled in the home instruction option.
San Juan Public Health Director Kirk Benge gave a sobering announcement about the outbreak last week as well. "We have seen a rapid and significant uptick in cases that are associated with youth in Monticello — both in youth and adults who are working with youth," Benge said in a recent Facebook broadcast. "Throughout the nation when we have seen upticks in youth, that has resulted in increased cases throughout the community in all age groups within a few days to a few weeks.
"Your risk of getting COVID in Monticello," he added, "has never been higher than it will be over the next week or so."
Data released by the health department shows more active coronavirus cases in Blanding and Monticello than on the entire Utah portion of the Navajo Nation with cases in the two towns increasing by 300% over the past seven days.
Nielson's revised recommendation, which the board approved, allows students to remain in the virtual instruction program only if they are ordered to quarantine by the health department or school administrators.
Parents, tutors, students and teachers who spoke with The Salt Lake Tribune expressed similar concerns as Armajo and Police over the district's abrupt decision. Several people said they would have offered public comment if they'd known the school board was considering doing away with the virtual instruction option. Instead, they felt blindsided by the announcement.
"[The district's] recommendation came because they stated something about [students] not being successful," said one parent from the Navajo Nation who asked not to be named. "So their solution is that those students, who are already identified as failing, will do better if they are completely isolated and doing this independently? I don't understand."
District schools on or near the Navajo Nation — in Bluff, Monument Valley, Montezuma Creek and Navajo Mountain — have been entirely virtual since the beginning of the semester and will remain so. Nielson did not present success data for those schools to the board, but he said failure rates there are also concerning. Police said her children in Bluff Elementary School, where teachers are leading virtual-only classes, are getting the support they need.
Many students living on the reservation choose to attend the schools in Blanding, which consistently rate higher academically than southern schools, even if it means a longer bus ride in some cases. The option is available in part due to civil rights settlement agreements and consent decrees that have reshaped school district policies in San Juan County since the 1970s.
"Our kids are so talented and without equal access to education — it's horrible, the way this will turn out in a year or 10 years," said one former district educator. "If we don't stand up for this as an injustice, then what's next? What else are they going to do?"
Staying home
For Armajo, staying home for the past few months has given her the opportunity to learn from elders about traditional Diné practices of caring for livestock, harvesting medicinal plants and preserving food for the winter. But she's keenly aware of the ways the pandemic has broadened the gap between students living south of the San Juan River on the Navajo Nation and those living in the northern part of the county. She said several of her friends and relatives decided to drop out of high school and look for a job in the wake of the district's decision last week.
Armajo wrote a heartfelt letter to her teachers after the decision was announced expressing her view that it would disproportionately impact Diné students and that it was indicative of systemic racism.
"Tell your family that you love them, tell your students that you love them," Armajo wrote. "This virus is not a joke … you have to see a person in the hospital bed saying they're going to come out and they're going to see you … but they know and you know that they're not going to come back.
"If you are frustrated, I am frustrated, too," she continued. "This year failed us, but the school district failed us, too."
Zak Podmore is a Report for America corps member and writes about conflict and change in San Juan County for The Salt Lake Tribune. Your donation to match our RFA grant helps keep him writing stories like this one; please consider making a tax-deductible gift of any amount today by clicking here.