When Golda Barton called 911 seeking help for her 13-year-old son, she was specific.
She wanted a crisis intervention team officer to help get her son, who was having a mental health episode, to a hospital.
"For whatever reason, that's not what she got," said Sherri Wittwer, CIT Utah board president.
Instead, Salt Lake City police officers, whom Wittwer characterized as crisis intervention generalists, responded, chased the boy and one of them opened fire, severely injuring 13-year-old Linden Cameron, who is autistic.
This wasn't the first time Linden's family had called the police for him. His brother, Wesley Barton, said the response was never quite what they needed. The department didn't seem well-equipped to handle an autistic teen acting out and often took a long time to respond. Alternatives are not readily available.
"I know that the Salt Lake City Police Department is not capable of handling mental crises after seeing what happened," Wesley Barton said. "They definitely didn't try to de-escalate."
After Linden was shot, Salt Lake City Mayor Erin Mendenhall promised a swift investigation, calling the shooting a "tragedy." It also drew outcry from advocacy groups like the Utah Disability Law Center, which said the shooting showed that the system is broken, and provided a 16-point outline to fix it. One of those points calls for the creation of more robust crisis intervention teams, which are comprised of officers who receive extensive mental health training.
The simple fact that Linden's mother had nowhere else to turn but to the police, the Disability Law Center wrote, was a "failure in leadership to ensure the health and safety of all Utahns."
This shooting took place during a year rife with protests against police violence, sparked by the killing of George Floyd in Minneapolis. Protesters, including in Utah, have called for efforts to "defund the police," essentially arguing to shift money from law enforcement to other social services, including mental health professionals.
That's what Rebecca McIntosh wants to see happen. The 45-year-old is a member of Utah Against Police Brutality and has a 7-year-old son who is autistic. She said that she's "terrified" at the prospect of having to call the police if she needs help with her son as he gets older and stronger.
"With the way things currently are, I wouldn't call for help," McIntosh said. "There's no doubt about that. I would deal with it myself."
A Salt Lake Tribune analysis of 911 calls of select Utah agencies shows that requests explicitly seeking help for mental health issues make up a small portion of the calls police officers receive yearly. But they are far from insignificant. In the past seven years, Salt Lake City officers have responded to nearly 42,000 such calls, which doesn't count incidents where it is not initially known that a person is suffering from a mental health episode.
These calls can often be unpredictable. While trained mental health professionals can handle some of them on their own, others would require an armed officer. Ideally, in most of these cases, a behavioral health professional would respond, Wittwer said, or someone from a mobile crisis outreach team.
"The fact is, we're not going to send social workers into every situation," she added, "and there are just times when law enforcement needs to be involved."
With that reality, the only path forward, she said, is to properly train and support law enforcement.
When people are in crisis
The Tribune's data analysis shows that 5.29% of all 911 calls to Salt Lake City police in the past seven years were mental health-related. Those are calls like "psychiatric problem" in which officers would know they are dealing with a mental health issue, and doesn't include other types of crimes, like illegal substance use, when officers might not determine there is a mental health element until they are on the scene.
In other cities like Layton and Logan, that percentage is even lower — 2.34% and 3.24%, respectively.
But Utah's Disability Law Center points to a Ruderman Family Foundation study that showed between 2013 and 2015, an estimated third to a half of all of the people killed by police had some kind of disability, either mental or physical.
That's why having officers trained to appropriately respond to these types of calls is so important, experts say.
But a crisis intervention team doesn't mean the same thing at every police department in Utah.
Had Golda Barton been calling from St. George, for instance, the 911 dispatcher would have sent a specialized mental health officer. Depending on how many times the family has called police, that officer may be aware of the patient's mental illness and triggers.
In Salt Lake City, the small crisis intervention team works weekdays and during regular business hours. And while all officers get 40 hours of crisis intervention training, Wittwer said, that doesn't equip them to handle really difficult encounters. Most officers don't want to be social workers, and shouldn't have to be, Wittwer said. An expert approach is best.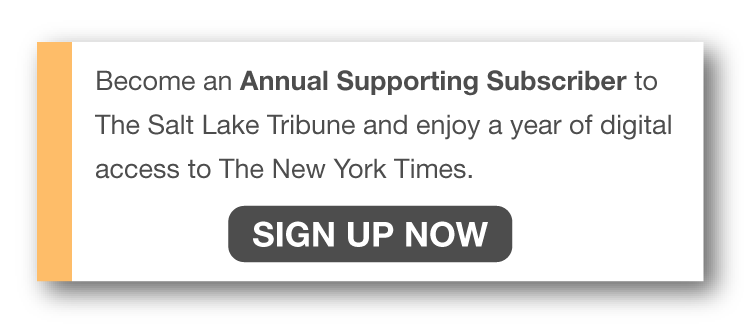 A police department in Utah can either administer its own crisis intervention training — Salt Lake City does this — or get trained by CIT Utah. The other option is to have no CIT-trained officers, which is mostly the case for small rural departments, according to Detective Joseph Taylor, who runs Salt Lake City police's crisis intervention team and once taught the program across the state.
Taylor said the only differences between the training SLCPD gives and what is offered by CIT Utah are administrative. It's the same 40-hour course, he said, just taught by someone else.
Wittwer said there's more to it than that.
If a department has been trained by CIT Utah, that means it is following as best it can the international best practices, so all officers get mental health and de-escalation training but those in the CIT team receive specialized advanced training. Ideally, someone is always on call to respond to mental health issues.
And unlike department-led efforts, CIT Utah's programs are administered and overseen by trained mental health and law enforcement professionals, as well as community members with experience around people with mental health issues.
"It's not a law enforcement response. It's a community response," Wittwer said. "Having people with lived experience, and their families, involved in the program helps to maintain the quality and to make it a program that the community trusts and will call and partner with."
Currently, SLCPD employs four CIT officers who work weekdays — and there are some jobs open. The team works with social workers to respond to 911 calls, like reports of suicidal people, and follow up with past callers to get them into substance abuse treatment or help them apply for a state-issued ID and other benefits.
Could a social worker do some of that? Yes, Taylor said, but not all of it.
"When people have mental health issues, they're not more dangerous. That's a misconception," the detective said. "But it can be more unpredictable. Sometimes people who want to hurt themselves, having delusions, they can be aggressive and hurt you."
He pointed to a July 2019 shooting as an example, when staff at the Sunrise Metro Apartments called the police nonemergency line to report that Michael Brand was "acting abnormally and being aggressive towards staff."
Brand had been diagnosed with psychiatric disorders. Video showed a staffer tell police that Brand was reeling from the recent death of his friend.
Three crisis intervention officers and an employee went to Brand's door. When Brand opened it, he was holding what appeared to be a black handgun.
Video shows the woman gasp, raise her arms and duck. Officer Scott Robinson then shoots three times, hitting both Brand and his partner Detective Mike McKenna.
Taylor said that even though the gun Brand held wasn't real, the encounter shows a "perfect example" or why police need to respond. When people are in a mental health crisis, they can be unpredictable and potentially violent.
Jessica Waters, SLCPD's social work director, said she thinks a lot about whether police are necessary in her work. Ultimately, she thinks they are.
"Honestly, there have been many situations where if the officer wasn't there," Waters said, "it could have gone really bad for the social worker."
What can be done?
A typical CIT response for someone with autism, like Linden Cameron, would include a quiet approach. Officers wouldn't pull up in cars with flashing lights and sirens. They wouldn't yell. They'd understand that the person may run, that the person might not follow commands or make eye contact.
They understand all of that is just part of the episode.
In Linden's case, police did try to approach quietly. They didn't use bright lights, either. But as soon as the first officer saw Linden, he flashed a light toward him and called out.
And Linden ran.
As the officer approaches the teen, he shines his light on him and yells, "Get on the ground! Get on the ground!"
The boy doesn't, and the officer fires about a dozen rounds.
Wesley Barton said last week that his brother is alive but is still in "pretty bad condition." Bullets struck Linden's shoulder, ankles, intestines and bladder, and it's expected he'll be in the hospital for quite some time.
Barton said after the body camera footage was released, his family members wanted justice for Linden, which to them meant the department should fire the officer. But family members also have grappled with whether the police should have responded differently to their pleas for help.
"Social workers are definitely a lot better, in my opinion, to send out on mental health calls," he said. "There's a lot better way to de-escalate a situation. I don't believe the police are the way to do that. If they want to send a police officer, they should be well-trained and take precautions."
Salt Lake City recently implemented a new use-of-force policy that requires officers to try de-escalation first when responding to most cases. That policy, however, took effect just hours after LInden had been shot.
The Disability Law Center said in a letter to the city's Racial Equity in Policing Commission that police and criminal justice reform will need to go much further than that.
It'll take decriminalizing offenses that don't risk public health and safety — like substance use — that disproportionately impact marginalized groups, and establishing civilian oversight boards that have power to cause change.
"In the long run, if we want a different outcome, we need a different model. We can no longer afford to depend on police to combat the results of poverty," the letter reads. "Instead, we must invest our resources in rooting out its causes: lack of education, lack of economic opportunity, lack of affordable housing and health care, lack of transportation, lack of mental health and substance use disorder treatment, barriers to reentry from jail or prison, and domestic violence, among others."
That letter isn't far off of what Salt Lake City Police Detective Greg Wilking said.
"To get to that point where we're defunding the police, we need to get to a point where society has a better way of dealing with mental health issues that are out there," Wilking, the police spokesman said, "that has a better way of dealing with the substance abuse issues that are out there. That has better education from the ground up, so that we have less people falling into poverty. This is the stuff we've got to, as a society, address right now and put our money toward. But you can't take away from the police in this moment."
Another proposal is a unified crisis intervention team standard, Wittwer said.
"So that CIT means the same wherever you live in this state, and individuals and families know what they can expect when they request a CIT officer," Wittwer said. "That's the goal."