Dani Barton

Brighton | Sophomore | 5-foot-11 | 19.0 points | 10.0 rebounds | 6.0 assists
Barton showed not only talent but courage during the Bengals' run to their first Class 5A state title since 2004. She played despite a bad ankle, scoring 12 points in a 49-40 win over Fremont in the title game.

"Her value is her all-around skill level," said Bengals coach Jim Gresh. "She can rebound. She can score. She can play defense. She is a very versatile player and a tremendous athlete. She also plays volleyball."

The Class 5A girls' basketball race was marked by a number of even teams, but Barton helped the Bengals finish strong, as they reeled off seven straight wins and won 11 of their last 12 games to win the title.

Monique Mills

Juan Diego | Senior | 5-foot-11 | 19.5 points | 11.6 rebounds | 2.5 steals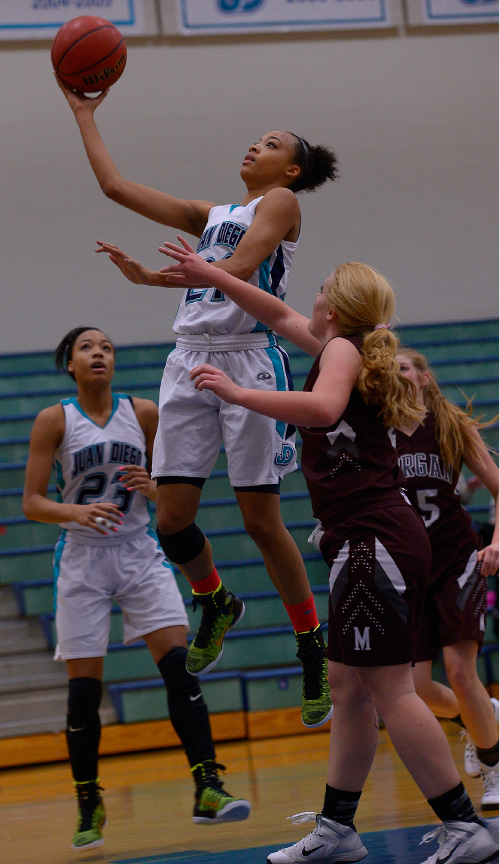 Mills, playing alongside sister Dominique, ranked among the state's most exciting players, as she led Juan Diego to an unbeaten 23-0 season and its first ever girls' basketball state title.

Her performance in the Soaring Eagle's 67-47 victory over Morgan in the Class 3A championship game was typical of her season. She turned in a 25-point, 12-rebound effort, while running the offense.

"Monique was a true leader on and off the court," said Soaring Eagle coach Josh Archuleta. "She was a positive influence to all of the kids. She was the first kid in and last kid out. She was a great example for the younger girls."

Darri Frandsen

Panguitch | Senior | 6-foot-1 | 17.0 points | 13.0 rebounds | 3.0 steals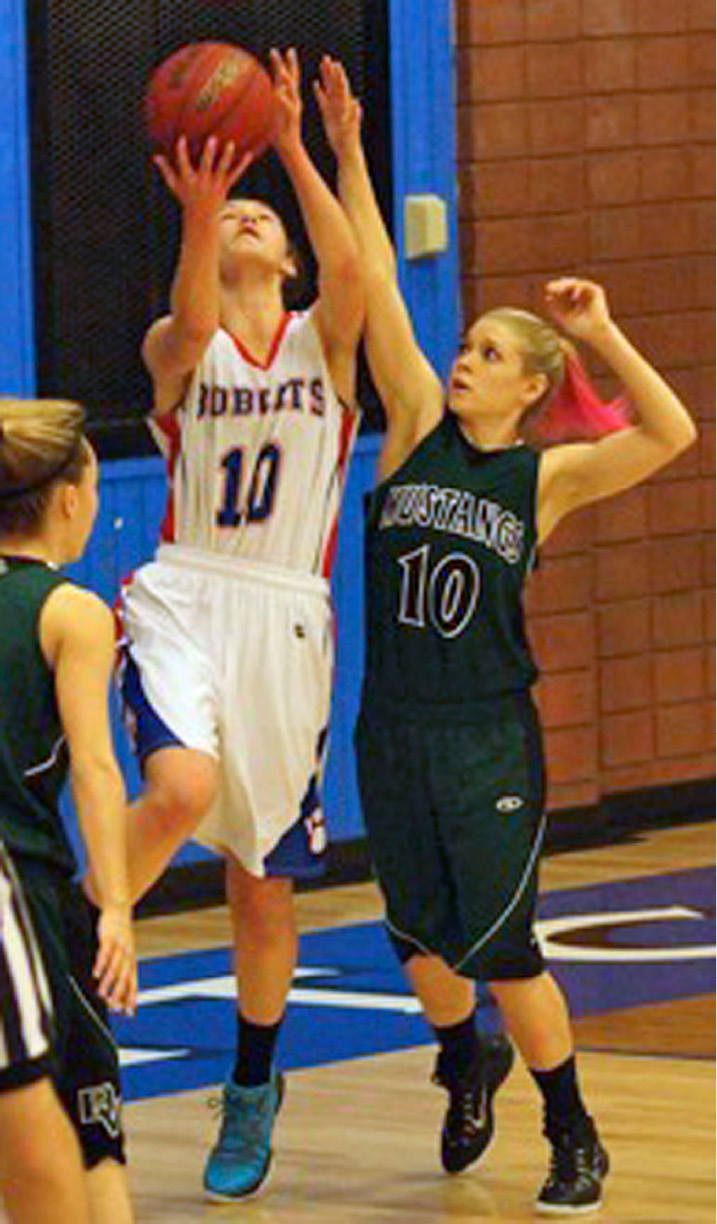 Frandsen was the key to a second straight title run for Panguitch, which owns a 54-game winning streak after beating Valley for the state title.

Panguitch, whose closest game of the season was a 21-point win, used a balanced offense. Frandsen was effective on both ends of the floor, as evidenced by her 114 blocked shots on the season.

"Darri has the unique knack of knowing where a missed shot is going to bounce, and just flat-out goes and gets it," said Bobcats coach Curtis Barney. "Many of Darri's points have come from getting an offensive rebound and putting it back in. … She has been a great competitor and a four-year starter."

Frandsen, regarded by many as one of the best girls' players to ever play small-school basketball, will continue her career by playing for Southern Utah University next season.

Kennedy Redding

Bountiful | Junior | 6-foot-4 | 21.2 points | 16.2 rebounds | 3.2 blocks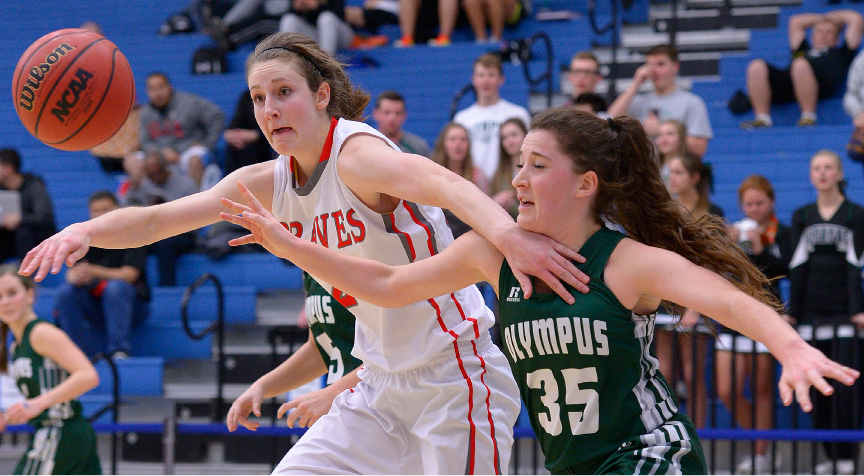 Redding proved to be a fierce competitor on both sides of the floor, as she used her height to not only score but block and alter shots and score from the inside.

"Kennedy is a game-changer on both ends of the floor," said Bountiful coach Joel Burton. "Her relentless desire makes her someone that the other team always has to account for. She is a very hard worker that strives to always become better."

Though the Braves' unbeaten season was ruined in an overtime Class 4A semifinal loss to Maple Mountain, Redding's effort in that contest was typical of her season. She scored 19 points and hauled down 18 rebounds in that game. Redding will be a fun player to watch next season when she returns.

Katie Toole

Viewmont | Senior | 5-foot-11 | 24.2 points | 4.7 rebounds | 2.4 assists | 2.1 steals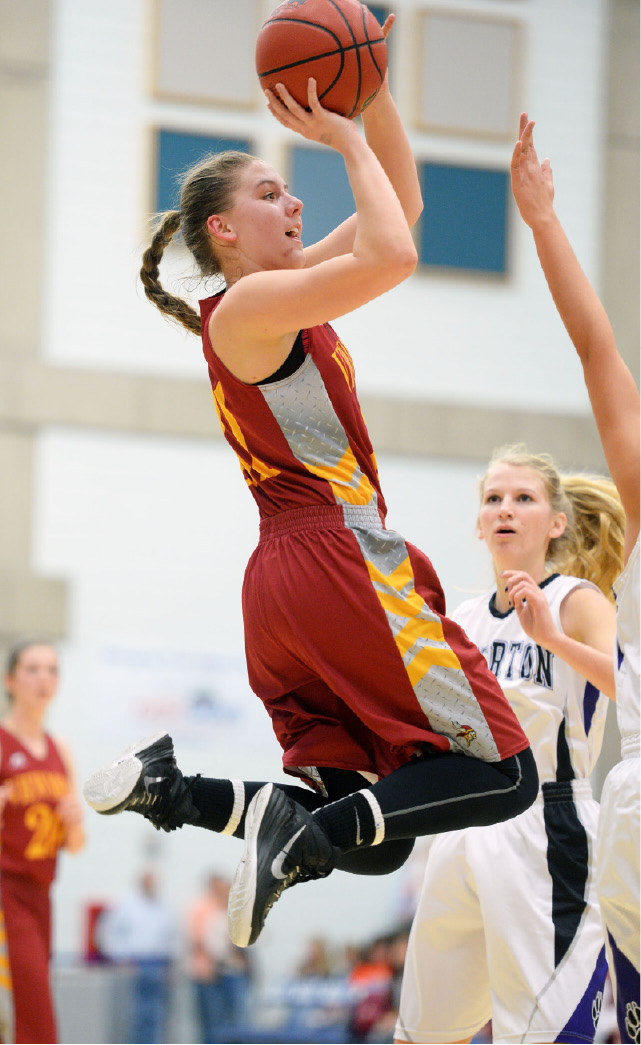 "She did everything for us," said Viewmont coach Clint Straatman about the state's leading scorer and a Utah State commit. "She was a complete player and the best catch-and-shoot player you would see."

In one regular season game, Toole recorded 43 points, 12 rebounds and seven assists in what was perhaps the most impressive individual girls' basketball performance of the season in any class.

Toole was capable of hitting a 3-point shot or stopping for a jump shot while driving. She led the Vikings to a 14-9 regular season record in tough Region 1. Viewmont lost in the quarterfinals to Riverton despite Toole's best effort.