Provo opens controversial westside connector
Published December 21, 2010 9:12 am
Traffic • Residents still angry, but city officials tout benefits.
This is an archived article that was published on sltrib.com in 2010, and information in the article may be outdated. It is provided only for personal research purposes and may not be reprinted.
Provo • With sirens blaring and lights flashing Monday, this city opened another north-south route on the west side.
Mayor John R. Curtis and other city officials marked the completion of the Lakeshore Drive connector road by ceremonially removing barricades and letting two police cars, a fire truck and an ambulance roll over a new bridge spanning the Provo River.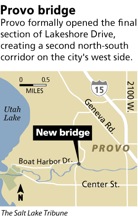 Saying it was sprung on them with little notice, area residents have complained since January that the bridge, will bring more traffic to their quiet neighborhood. But city officials say it will be easier for fire and ambulance crews to respond on the west side.
"I know a lot of citizens don't like traffic through the neighborhood," said Fire Chief D. Blair Camp. "But this will make traffic movement better and safer, and enhance our emergency services."
The $1.86 million project extends Lakeshore Drive from Center Street at 3100 West across the Provo River to 450 North. Previously, the only north-south route in the area was Geneva Road.
Camp and other officials at the ceremony said that with the Interstate 15 project under way and Geneva Road slated to be overhauled, it made sense to put in another way to get around the west side.
"I've been a long believer in the best way to handle traffic is to give people a lot of options," said Merrill Bingham, the city's public works director. "Disperse traffic the best you can and prevent traffic from becoming concentrated on routes that become congested."
Bingham said the city's growth will occur on the west side, making the Lakeshore Drive link vital.
Resident Evan Frederickson, who attended Monday's ceremony, had mixed emotions.
"It's going to make life for us a little more convenient," he said. "But I'm not thrilled about the amount of traffic that is going to come through here."
Curtis said the bridge was unique in that it was designed to accommodate cars, bikes and pedestrians together.
City Engineer David Graves said the bridge roadway will have dedicated bike lanes, as well as a 10-foot-wide sidewalk on the west side that can handle both bikes and pedestrians, along with a 6-foot sidewalk on the east side just for walkers.
The bridge also connects pedestrians and cyclists with the Provo River Trail, which runs underneath it.
Municipal Councilwoman Sherrie Hall Everett acknowledged both the project's benefits and residents' frustration about not being notified about the bridge. She said one solution would be to create a system to notify residents about planned projects in their area, so there are no surprises.
dmeyers@sltrib.com
Reader comments on sltrib.com are the opinions of the writer, not The Salt Lake Tribune. We will delete comments containing obscenities, personal attacks and inappropriate or offensive remarks. Flagrant or repeat violators will be banned. If you see an objectionable comment, please alert us by clicking the arrow on the upper right side of the comment and selecting "Flag comment as inappropriate". If you've recently registered with Disqus or aren't seeing your comments immediately, you may need to verify your email address. To do so, visit
disqus.com/account
.
See more about comments here.
comments powered by Disqus