Paul Millsap a 3 machine for Atlanta Hawks
Published March 10, 2014 3:20 pm
This is an archived article that was published on sltrib.com in 2014, and information in the article may be outdated. It is provided only for personal research purposes and may not be reprinted.
Paul Millsap walked into EnergySolutions Arena on Monday for the first time as a member of a team other than the Utah Jazz. He found himself walking toward the home locker room before being directed to the visitors', a room he'd never seen before in his seven seasons in Utah.
"I didn't know what the visitors' locker room looked like," he said.
On the court after the Hawks' shootaround, Millsap found himself in another spot inside ESA that might have felt somewhat unfamiliar: behind the 3-point line.
"There were flashes of it," Atlanta coach Mike Budenholzer said as he watched Millsap and ex-Jazz forward DeMarre Carroll fire up 3s.
Budenholzer then referenced a certain November 2010 night in Miami, when Millsap hit three 3s and a buzzer-beating put-back — 11 points in 28 seconds — to force overtime against the Heat, eventually finishing with 46 points in a 116-114 Jazz win.
With the Hawks, Millsap's 3-point prowess, either undiscovered or under-utilized during his time with the Jazz, is on full display.
In seven seasons with the Jazz, Millsap took 113 total 3-point attempts, hitting 31 of them. With a month still to play in his first year with the Hawks, Millsap has gone 56 of 155 from beyond the arc.
"The way we play, it's something that's important to us and we've encouraged him to work on it. He's put in the time and effort," Budenholzer said. "I think it's something he was confident he could do. He's just put in the time and the work."
Here's a breakdown of Millsap's shot selections last season in Utah: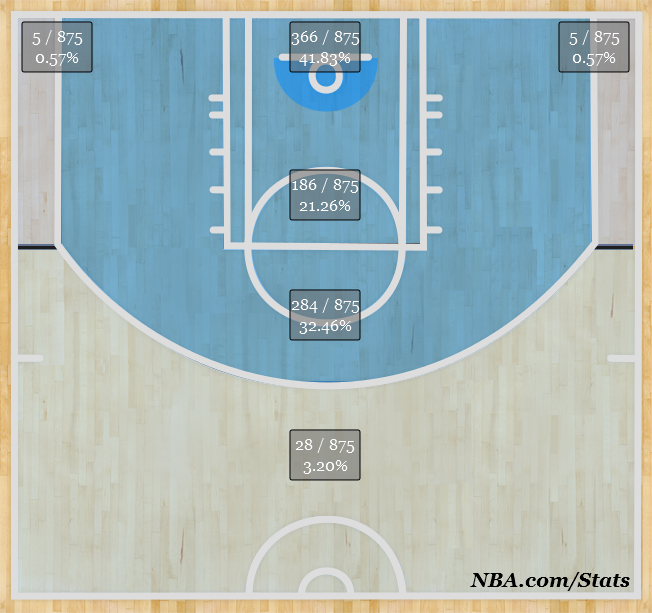 And here's how they've come this year with Atlanta: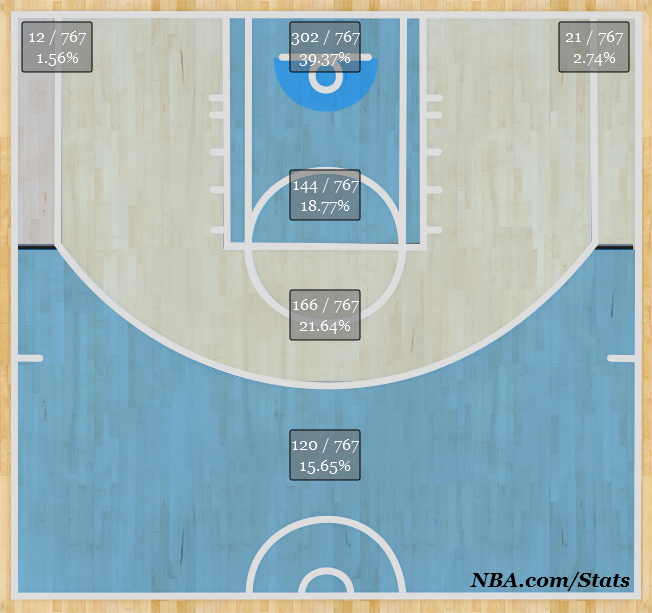 Over the All-Star break, I asked Millsap whether he was being used better with the Hawks. Here's his answer, however polite it might be: "I wouldn't say 'used better.' I'd say I have the opportunity to get out there and really show everything I can do. We run a pretty wide-open system and I'm able to stretch the floor and put the ball on the ground to make plays."
Carroll, the Junkyard Dog himself, had a little more blunt assessment earlier this year.
"Before practice in Utah, he used to work on a lot of things that I'm seeing now, but he never got to use them because we always had to run that system," Carroll told the Atlanta Journal Constitution. "He got here, and he's doing everything I saw in practice two years ago."
- Aaron Falk
Reader comments on sltrib.com are the opinions of the writer, not The Salt Lake Tribune. We will delete comments containing obscenities, personal attacks and inappropriate or offensive remarks. Flagrant or repeat violators will be banned. If you see an objectionable comment, please alert us by clicking the arrow on the upper right side of the comment and selecting "Flag comment as inappropriate". If you've recently registered with Disqus or aren't seeing your comments immediately, you may need to verify your email address. To do so, visit
disqus.com/account
.
See more about comments here.
comments powered by Disqus