Token female joins Tribune blog team
Published December 13, 2013 10:38 am
This is an archived article that was published on sltrib.com in 2013, and information in the article may be outdated. It is provided only for personal research purposes and may not be reprinted.
I was out of town when this blog was created.
Oops.
In this day and age, you don't make a general internet-snippets happy fun blog and put up a picture of only male contributors.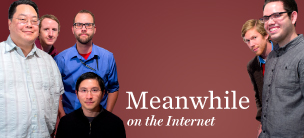 Just no.
So this week they made all seven of us dress up for a picture, and tada.
You got yourself a skirt on The Internet Blog.
I've been popping into this space periodically, trying to represent the 51 percent and snag enough page views not to get laid off from The Tribune.
But here's the thing: (deliberate lower case as to signal meekness) i think women actually do matter in media.
Can men cover women? Sure. Of course. The men pictured above are extremely fair people. I would trust any of them to write about my girly issues.
But would they?
In 27 posts written by men here over the past two weeks, only five mention any women by name.
Of the 10 women identified — on a blog about the whole Internet — seven are professional athletes. Not a super diverse representation.
Going back one month, 16 women are mentioned vs. 61 men. But 16 is 61 backwards, so that's pretty good. (Math is tough!)
I'm sure plenty of people believe that men are by some default the most neutral arbiters of what's interesting, and the underrepresentation of women here reflects the simple fact that, on the whole, women are less than one-third as interesting as men.
But those people are stupid.
I sure don't mean to pick on my colleagues. Each of us is biased in our own special way, and that includes me. Our best bet is to try to balance each other.
No individual woman can speak for all women, but at least one of us can be part of this conversation.
— Erin Alberty
Reader comments on sltrib.com are the opinions of the writer, not The Salt Lake Tribune. We will delete comments containing obscenities, personal attacks and inappropriate or offensive remarks. Flagrant or repeat violators will be banned. If you see an objectionable comment, please alert us by clicking the arrow on the upper right side of the comment and selecting "Flag comment as inappropriate". If you've recently registered with Disqus or aren't seeing your comments immediately, you may need to verify your email address. To do so, visit
disqus.com/account
.
See more about comments here.
comments powered by Disqus