Hildale • The graduates wore gowns, and they wrote and drew on the tops of their mortarboard caps just like teenagers anywhere.
"Pomp and Circumstance" played over the loudspeakers as the graduates marched into the gymnasium, just like at a high school anywhere.
Yet the commencement ceremony Monday at Water Canyon High School was a little different than most others. There was more emphasis on the students' accomplishments than the average high school graduation.
That's because the average graduate at Water Canyon has been through a lot. Many of the students are former members of the polygamous Fundamentalist Church of Jesus Christ of Latter-Day Saints.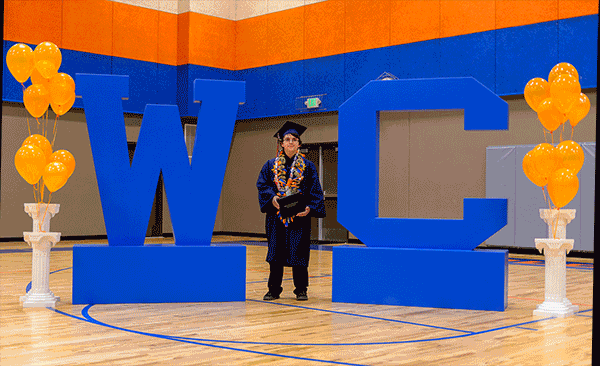 Dale Jeffs said even though the graduates didn't necessarily grow up together — the FLDS have spread out across the West in the past 15 years — the class members have had a lot of experiences to which they can relate.

Jeffs didn't enter public school until the 11th grade. When he enrolled, he didn't think he would graduate. Monday, he and his half-sister Melissa were among the graduates in caps and gowns. Jeffs plans to go to Dixie State University and study business.

"We made it this far after coming out [out of the church]," Jeffs said, "and it's been surprising."

FLDS President Warren Jeffs ordered parents to remove their children from the public schools in 2004. While a public school remained open in adjoining Colorado City, Ariz., there was none in Hildale until Water Canyon, which also has an elementary and junior high school, opened in Hildale in 2014.

There was one graduate the first year and six last year, said Principal Darin Thomas. Twenty-five students graduated Monday.

Thomas choked up when he addressed the audience and recalled the school's start and how he has gotten to know the students.

"I want you to remember who you are," Thomas told the grads. "I want you to remember what you've learned here these last few years."

Applause and big smiles came from the audience for every mention of a college scholarship or other accomplishment won by a graduate.

The commencement speaker, Utah Lt. Gov. Spencer Cox, warned the students they will face adversity in their lives, but encouraged them not to give up. He also recalled visiting Hildale in September 2015 after a flash flood here killed 13 people.

The town remains divided among former and current FLDS members, but Cox recalled how everyone worked together to find the bodies of the flood victims.

"As much as that memory stings today for everybody that lived through that," Cox said, "I saw the best of humanity that day."

Politicians from Washington County sat with Cox. So, too, did Hildale Mayor Philip Barlow. He smiled, laughed and clapped for the graduates.

Barlow, assumed by locals to be a member of the FLDS, was absent when the school debuted. Water Canyon used to be an FLDS storehouse. The church lost the building as part of a lawsuit, and the Washington County School District subsequently bought it. Church members have largely stayed away.

Water Canyon had about 520 students in kindergarten through 12th grade this school year.

Danielle Barlow hugged friends and family and cried after the ceremony. She said she did not grow up in the FLDS, but she is the 13th of 16 children and the first among them to graduate from high school.

She said hers is not an uncommon story among her classmates.

"It's a lot of excitement, tears of joy," she said.

ncarlisle@sltrib.com

Twitter: @natecarlisle