Washington • President Donald Trump's approval rating is increasing in Utah — a majority of registered voters now view him positively — even as his numbers nationally have sunk in his first two months in office.
A Salt Lake Tribune-Hinckley Institute of Politics poll finds that 54 percent of registered voters say they somewhat or strongly approve of Trump's job performance while 41 percent disapprove. In January, just before Trump took office, a Tribune-Hinckley Institute poll found 46 percent favorability for the incoming president and 52 percent unfavorable.
The poll was conducted March 15-21 by Dan Jones & Associates among 605 registered voters statewide and has a margin of error of 3.98 percent.

Utahns' view of the Republican president are the polar opposite of the national take on Trump where a Gallup tracking poll has shown a dip of 9 percent in approval rating since he took office Jan. 20. Gallup now shows 54 percent of Americans disapprove of the president's job performance compared to 45 percent who said the same thing in late January.

But the rising approval in Utah, even if it's tepid compared to past support for Republican presidents, had Trump supporters in the state crowing.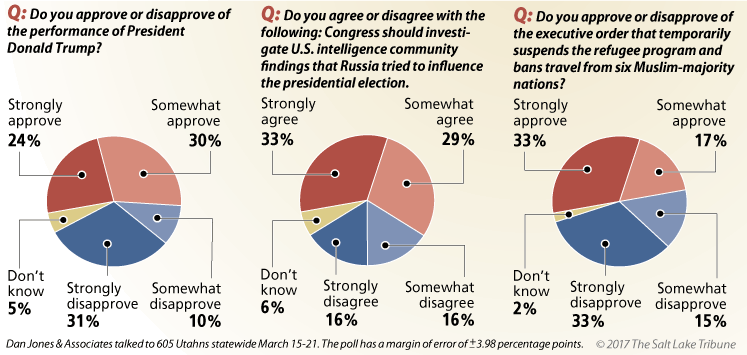 "I don't think the poll numbers are unexpected because I think what Utahns are seeing is that Trump is delivering on the campaign promises that he's made," said Utah Republican Party Chairman James Evans. "Perhaps the poll numbers are also reflecting this refreshing point of view that here's a politician who is following through on what he said he would do."

Utah was not Trump territory in the 2016 election. He won the state with just 46 percent of the vote because independent candidate Evan McMullin, a Mormon with ties to Utah, split the GOP base. Some 22 percent of Utahns' votes went for McMullin while 27 percent backed Democrat Hillary Clinton.

The president still has not captured majority support among female voters in Utah, according to the new poll. Just 47 percent of women backed Trump, compared to 48 opposed. Men, by contrast, approved of the president 60 percent to 33 percent.

Holly Richardson, a former Republican state lawmaker who opposed Trump for president, said Utahns may be giving Trump a "bit of a honeymoon."

"Certainly the message I've heard is: 'Give him a chance,' " she said.

Richardson added that it's still surprising that a Republican president can't find more support in a GOP-dominated state.

"In deep red Utah, we're talking about it being a good thing that he's over 50 percent," she said.

The Tribune-Hinckley Institute poll also shows that Utahns are split on whether they back Trump's executive order barring immigrants and visitors from six Muslim-majority countries, with 50 percent strongly or somewhat approving and 48 percent opposing. Only 2 percent were unsure.

Partisanship seemed to drive the findings, with 93 percent of Democrats against the executive order and 64 percent of Republicans in favor.

Trump's two executive orders, both of which have been stayed by federal courts, faced deep criticism by Democrats as well as immigrant groups and Muslim organizations while Trump warned that it was dangerous for the country to continue to allow people from war-torn or terrorism-beset nations to be allowed on American soil.

Richardson, who is Mormon, said she worries support for such a measure is driven by "fear and misunderstanding," and she noted that followers of the LDS faith were once targeted as a minority group.

"I am sad that half of our state is OK with a broad plan on a certain group of people that are different from us," she said. "You don't have to go back very far in Mormon history to find that as a people, we were refugees as well."

On a different topic, Utahns were very much in favor of Congress investigating Russia's attempt to sway the presidential election. Some 62 percent of registered voters said they backed such a probe and 32 percent were against it.

This view also followed party lines, with 80 percent of Democrats strongly supporting a congressional investigation compared to 17 percent of Republicans who said the same thing. Overall, though, a majority of voters — regardless of party affiliation — backed such an investigation.

Rep. Jason Chaffetz, a Utah Republican who is chairman of the House Oversight and Government Reform Committee that has broad authority to probe any allegations of government wrongdoing, has been under fire for not using his power to review the Russia scandal. But he has said that those issues are better left to the House and Senate intelligence committees.

In a separate poll question, Utahns favored by a nearly two-to-one margin Chaffetz using his post to look into the president's potential conflicts of interest, 62 percent to 32 percent.

tburr@sltrib.com