Hike of the week
| Hike | Region | Difficulty | Distance | Published |
| --- | --- | --- | --- | --- |
| Eagle Crags Trail near Rockville | Zion National Park | 3 | 6.14 miles | 2015-10-27 |
| Surprise Canyon -- Capitol Reef National Park | Capitol Reef National Park | 1 | 2 miles | 2015-10-21 |
| Mount Van Cott -- the University of Utah | Wasatch Canyons | 3 | 3.4 miles | 2015-10-15 |
| Big Elk Lake in the Uinta Mountains | Uinta Mountains | 3 | 3.5 miles | 2015-09-30 |
| Silver Lake and Twin Lakes | Wasatch Canyons | 1 | 2 miles | 2015-09-10 |
| Days Fork in Big Cottonwood Canyon | Wasatch Canyons | 3 | 8.12 miles | 2015-09-02 |
| Lakeshore National Recreation Trail at Fish Lake | Central Utah | 1 | 2.8 miles | 2015-08-26 |
| Doctor Creek Trail at Fish Lake | Central Utah | 3 | 3.2 miles | 2015-08-19 |
| White Pine Lake | Cache County | 3 | 7.6 miles | 2015-08-12 |
| Clark's Trail in Corner Canyon | Wasatch Canyons | 3 | 2.8 miles | 2015-08-06 |
| Snowbasin's Green Pond Loop | Wasatch Canyons | 1 | 5.81 miles | 2015-07-29 |
| Maybird Lake in Little Cottonwood Canyon | Wasatch Canyons | 3 | 8.6 miles | 2015-07-23 |
| Limber Flag in Ashley National Forest | Ashley National Forest | 1 | 2 miles | 2015-07-16 |
| North Fork of Deaf Smith Canyon in Cottonwood Heights | Wasatch Canyons | 3 | 3.72 miles | 2015-07-09 |
| Albion Meadow Basin | Wasatch Canyons | 1 | 2.2 miles | 2015-07-01 |
| Lisa Falls | Wasatch Canyons | 1 | 0.3 miles | 2015-06-25 |
| Little Mountain | Wasatch Canyons | 3 | 5.1 miles | 2015-06-17 |
| Sulphur Creek in Capitol Reef National Park | Capitol Reef National Park | 1 | 2.1 miles | 2015-06-10 |
| Beus Canyon | Weber County | 3 | 3 miles | 2015-06-03 |
| Willow Heights Trail | Salt Lake County | 3 | 2.8 miles | 2015-05-27 |
| Fremont River Trail in Capitol Reef National Park | Capitol Reef National Park | 3 | 1.58 miles | 2015-05-20 |
| Stansbury Island Interactive Trail | Tooele County | 3 | 6 miles | 2015-05-13 |
| Old Wagon Trail -- Capitol Reef National Park | Capitol Reef National Park | 3 | 4.1 miles | 2015-05-06 |
| Parrish Canyon Trail in Davis County | Davis County | 3 | 5 miles | 2015-04-30 |
| Holbrook Canyon Trail in Bountiful | Davis County | 3 | 5 miles | 2015-04-23 |
| Pine Canyon Consevation Area - Tooele | Tooele County | 1 | 2.8 miles | 2015-04-16 |
| Jump-off Canyon in Ogden | Weber County | 1 | 2 miles | 2015-04-09 |
| Bountiful Overlook | Davis County | 3 | 3.87 miles | 2015-04-02 |
| South Mule Canyon | San Juan County | 1 | 8 miles | 2014-11-20 |
| Cuberant Lake Trail -- Uinta Mountains | Uinta Mountains | 3 | 5.96 miles | 2014-09-17 |
| Naomi Peak Trail | Cache County | 3 | 6.3 miles | 2014-09-08 |
| South Fork of Deaf Smith Canyon in Cottonwood Heights | Salt Lake County | 3 | 4 miles | 2014-08-06 |
| Shingle Creek Trail -- Uinta Mountains | Uinta Mountains | 5 | 13.32 miles | 2014-08-01 |
| LaVerkin Creek -- Zion National Park | Zions National Park | 5 | 9.97 miles | 2014-07-16 |
| Beartrap Fork in Big Cottonwood Canyon | Salt Lake County | 5 | 5.2 miles | 2014-07-10 |
| Brooks Nature Park and Owens Loop | Washington County | 5 | 3.5 miles | 2014-06-25 |
| Hidden Canyon -- Zion National Park | Zions National Park | 3 | 3 miles | 2014-05-14 |
| Water Canyon -- Hildale | Washington County | 1 | 2.56 miles | 2014-04-09 |
| Alexander Basin in Millcreek Canyon | Salt Lake County | 5 | 1.74 miles | 2013-11-13 |
| Hot Pots or Fifth Water in Utah County | Utah County | 1 | 5.14 miles | 2013-10-30 |
| River Trail in Logan Canyon | Cache County | 1 | 7.4 miles | 2013-10-10 |
| Wild Rose Trail -- North Salt Lake | Davis County | 1 | 3.7 miles | 2013-10-03 |
| Private Arch -- Arches National Park | Arches National Park | 3 | 3.47 miles | 2013-09-26 |
| Broads Fork Trail -- Big Cottonwood Canyon | Salt Lake County | 3 | 5.16 miles | 2013-09-19 |
| Alpine Pond at Cedar Breaks | Iron County | | | 2013-08-22 |
| Wheeler Canyon | Weber County | 3 | 5.1 miles | 2013-08-14 |
| Spectra Point and Ramparts Overlook | Cedar Breaks National Monument | 3 | 3.35 miles | 2013-08-05 |
| Crystal Lake Trailhead to Long Lake | Uinta Mountains | 3 | 5.46 miles | 2013-07-30 |
| Birdsong Trail | Weber County | 3 | 3.62 miles | 2013-07-21 |
| Grotto Trail | Utah County | 1 | 1.2 miles | 2013-06-20 |
| Mill Creek in Moab | Moab | 1 | 2 miles | 2013-06-13 |
| The Jewel Tibbetts Arch | Moab | 1 | 1.5 miles | 2013-06-06 |
| Ferguson Canyon | Salt Lake County | 3 | 3.5 miles | 2013-05-30 |
| Adams Canyon - Layton | Davis County | 3 | 3.6 miles | 2013-05-23 |
| Spooky Gulch | Grand Staircare-Escalante National Monument | 1 | 3 miles | 2013-05-16 |
| Red Butte Nature Trail | Salt Lake County | 1 | 4 miles | 2013-05-09 |
| Hellhole Trail -- Ivins | Southern Utah | 3 | 4 miles | 2013-04-18 |
| Davis creek trail | Davis County | 3 | 3 miles | 2013-04-16 |
| Clark Lake -- Moab | Grand County | 1 | 2.2 miles | 2012-10-31 |
| Red Pine Road Loop | | 1 | 4.2 miles | 2012-10-25 |
| Holmes Creek -- Webb Canyon | Davis County | 5 | 2.7 miles | 2012-09-25 |
| Fehr and Shepard lakes -- Uinta Mountains | Uinta Mountains | 1 | 3.18 miles | 2012-09-06 |
| Left Hand Fork/Ridge Trail | Tooele County | 3 | 3 miles | 2012-08-12 |
| Cecret Lake | Salt Lake County | 1 | 1.94 miles | 2012-08-10 |
| Little Cottonwood Trail | Salt Lake County | 1 | 6.5 miles | 2012-08-07 |
| Deer Creek Lake -- Boulder Mountain | Southern Utah | 3 | 6.1 miles | 2012-07-12 |
| Murphy Point Overlook -- Canyonlands National Park | Canyonlands National Park | 1 | 3.58 miles | 2012-07-05 |
| Notch Peak in western Utah | Western Utah | 5 | 8.4 miles | 2012-06-20 |
| Hidden Valley -- Ogden | Weber County | 3 | 5.18 miles | 2012-06-13 |
| Carmel Canyon Trail in Goblin Valley | Southern Utah | 3 | 1.4 miles | 2012-06-06 |
| Jack's Mountain mailboxes | Salt Lake City | 3 | 3.2 miles | 2012-06-02 |
| Slickrock Trail -- Canyonlands National Park | Canyonlands National Park | 1 | 2.8 miles | 2012-05-30 |
| Druid Arch -- Canyonlands National Park | Canyonlands National Park | 5 | 15.9 miles | 2012-05-12 |
| Bowman Fork to Baker Pass in Millcreek Canyon | Salt Lake County | 3 | 6.5 miles | 2012-05-02 |
| Chuckwalla and Halfway Wash trails -- St. George | Washington County | 1 | 3 miles | 2012-04-10 |
| Pine Creek nature trail | Summit County | 1 | 2.4 miles | 2011-11-14 |
| Portal Overlook Trail | Grand County | 1 | 3.6 miles | 2011-10-31 |
| Boren Mesa Trail -- Moab | Grand County | 1 | 5.6 miles | 2011-10-14 |
| Cardiff Pass -- Little Cottonwood Canyon | Salt Lake County | 3 | 4.6 miles | 2011-08-30 |
| Over Easy Trail | Salt Lake County | 5 | 6.4 miles | 2011-08-30 |
| Wolf Canyon Trail - Eden | Eden | 1 | 6.4 miles | 2011-08-07 |
| Jardine Juniper trail -- Logan Canyon | Logan Canyon | 3 | 8.8 miles | 2011-07-24 |
| Bells Canyon Waterfalls | Salt Lake County | 3 | 5.08 miles | 2011-07-17 |
| Neck Spring Trail -- Canyonlands National Park | | 3 | 6 miles | 2011-07-10 |
| Killyon Canyon | | 3 | | 2011-07-03 |
| Short Stack | | 5 | 4.4 miles | 2011-06-26 |
| Burnt Ridge | Wasatch County | 3 | 3.5 miles | 2011-06-19 |
| Faux Falls near Moab | Moab | 1 | 2 miles | 2011-06-12 |
| Gorgoza Park Up and Road to Arcylon trails | Summit County | 1 | 4.5 miles | 2011-06-05 |
| Gorgoza Park Peak | Summit County | 1 | 2.4 miles | 2011-05-29 |
| Mid-Valley Trail -- Tooele | Tooele | 1 | 5.4 miles | 2011-05-22 |
| Willis Creek -- Grand Staircase-Escalante National Monument | Grand Staircase-Escalante National Monument | 3 | 4.4 miles | 2011-05-15 |
| Lower Calf Creek Falls -- Grand Staircase-Escalante National Monument | Grand Staircase-Escalante National Monument | 1 | 5.6 miles | 2011-05-08 |
| Hunters Canyon | Moab | 1 | 4 miles | 2011-05-01 |
| Hidden Valley | Moab | 5 | 4 miles | 2011-04-24 |
| East Fork yurt -- Uintas | Uintas | 1 | 3.6 miles | 2011-04-17 |
| T-Bone Trail -- St. George | St. George | 1 | 4 miles | 2011-04-10 |
| Rocky Peak, Oquirrh Mountains | Oquirrh Mountains | 5 | 7 miles | 2010-11-21 |
| Delicate Arch - Arches National Park | Arches National Park | 1 | 4 miles | 2010-11-14 |
| Loop Trail -- Natural Bridges National Monument | Natural Bridges National Monument | 3 | 7.8 miles | 2010-11-07 |
| Rock Castle -- Salt Lake County | Salt Lake County | 5 | 3 miles | 2010-10-31 |
| Parleys Canyon Trailhead | Salt Lake County | 5 | 2.8 miles plus | 2010-10-24 |
| Bullfrog Marina Nature Trail | Lake Powell | 3 | 1.5 miles | 2010-10-17 |
| Jeremy Ranch 24-7 Trail | Summit County | 1 | 4 miles | 2010-10-10 |
| Pine Hollow -- American Fork Canyon | Utah County | 3 | 3.6 miles | 2010-10-03 |
| Clegg Canyon Trail - Daniels Canyon | | 3 | 8.5 miles | 2010-09-26 |
| Island Lake - Uinta Mountains | Uinta Mountains | 3 | 6 miles | 2010-09-19 |
| Bunting Trail - Kanab | | 1 | 2.4 miles | 2010-09-12 |
| East Basin, Uintas | Uintas | 3 | 28 miles | 2010-09-05 |
| Gooseberry Trail and White Rim Overlook - Canyonlands | Canyonlands | 5 | 4.8 miles | 2010-08-29 |
| Burch Hollow - Terraces loop | Mill Creek Canyon, Wasatch Range | 3 | 6.4 miles | 2010-08-22 |
| Wall Lake - Uintas | Unitas | 1 | 3.2 miles | 2010-08-15 |
| Fossil Discovery Trail | Uintah County | 1 | 0.75 miles | 2010-08-08 |
| Reynolds Peak, Mill Creek Canyon | Wasatch Mountains | 3 | 5.5 miles | 2010-08-01 |
| Maple Canyon Loop Trail | Sanpete County | 3 | 2.5 miles | 2010-07-31 |
| Rosevere Point | | 3 | 5.2 miles | 2010-07-25 |
| McConkie Ranch | Vernal | 1 | Canyon wall trail is 0.8 mile, Three Kings trail is 1.2 mile | 2010-07-16 |
| Old Ephraim's Grave -- Logan Canyon | Logan Canyon | 5 | 11.8 miles | 2010-07-11 |
| Days Canyon -- Hobble Creek Canyon | | 3 | 4.2 miles | 2010-07-04 |
| Silver Lake -- American Fork Canyon | Utah County | 3 | 4 miles | 2010-06-27 |
| Mule Hollow | Big Cottonwood Canyon | 3 | 2.4 miles | 2010-06-20 |
| Mollie's Nipple, Pump Ridge, Hobble Creek Canyon | Utah County | 3 | 6.5 miles | 2010-06-13 |
| Eagle Canyon Arch -- San Rafael Swell | San Rafael Swell | 1 | 4.8 miles | 2010-06-06 |
| Jacks Mountain mailboxes | Salt Lake County | 3 | 3.2 miles | 2010-05-30 |
| Capitol Reef National Park: Grand Wash | Capitol Reef National Park | 1 | 4 miles | 2010-05-23 |
| Radio towers hike | Salt Lake County | 0 | | 2010-05-16 |
| Corona and Bowtie arches -- Moab | | 1 | 2.5 miles | 2010-05-09 |
| Emerald Pools Trail -- Zion National Park | Zion National Park | 3 | 1.2 to Lower, 2 to Middle, 0.6 to Upper to Middle | 2010-05-04 |
| Capitol Reef: Frying Pan Trail | Capitol Reef National Park | 3 | 3.2 miles | 2010-05-02 |
| Moab Rim Trail -- Moab | Moab | 3 | 8 miles | 2010-04-26 |
| Spring Creek Canyon - Iron County | Iron County | 1 | 2.8 miles | 2010-04-18 |
| Three Ponds -- Snow Canyon State Park | Southwest Utah | 1 | 3.3 miles round trip | 2010-04-11 |
| Panorama Trail -- Kodachrome Basin
 State Park | | 1 | 3.7 miles | 2009-11-01 |
| Five Mile Wash -- 
Wayne County | Wayne County | 1 | 3.4 miles | 2009-10-25 |
| Shoreline Trail (Terrace Hills Drive access) to Old Cars | Salt Lake County | 1 | 2.4 miles | 2009-10-18 |
| Fifth Water (or Hot Pots) | Utah County | 1 | 4.8 miles | 2009-10-03 |
| Forest Lake - 
American
 Fork Canyon | Utah County | 1 | 3.8 miles | 2009-09-27 |
| Skull Crack Trail,
 Causey Reservoir | Weber County | 3 | 4.6 miles | 2009-09-20 |
| Little Black Mountain | Salt Lake County | 5 | 7.4 miles | 2009-09-11 |
| Red Butte Peak | Salt Lake County | 3 | 2.6 miles | 2009-09-06 |
| Hat Shop -- Bryce Canyon National Park | Bryce Canyon National Park | 3 | 3.7 miles | 2009-08-21 |
| Thornton Hollow Daniels Canyon | Wasatch County | 1 | 4.2 miles | 2009-08-14 |
| Peekaboo-Queens Garden Loop - Bryce Canyon | Bryce Canyon | 3 | 5.5 miles | 2009-08-07 |
| Emigration Canyon-Miners Trail | Emigration Canyon | 3 | 4.8 miles | 2009-07-31 |
| Left Fork of Huntington Canyon | Manti-La Sal National Forest | 1 | 5.4 miles | 2009-07-26 |
| Dixie National Forest Lost Hunter loop trail | Cedar City | 1 | 2.42 miles | 2009-07-17 |
| Center Canyon to Clegg Canyon | Wasatch County | 3 | 1.36 miles | 2009-07-12 |
| Crimson Trail | Logan Canyon | 1 | 2.1 miles | 2009-07-05 |
| Intrepid Trail System, Dead Horse Point State Park | Southeast Utah | 1 | 1.1 to 9 miles | 2009-06-28 |
| Fiery Furnace | Arches National Park | 3 | 2 miles | 2009-06-21 |
| Doughnut Falls | Salt Lake County | 1 | 1.5 miles | 2009-06-14 |
| Parrish Canyon Trail | Davis County | 3 | 4 miles | 2009-06-07 |
| Short Stansbury Island hike | Davis County | 3 | 3.4 miles | 2009-05-29 |
| Tower Arch | La Sal Mountains | 3 | 2.6 miles | 2009-05-22 |
| Stansbury Island Trail loop | Davis County | 3 | 5.8 miles | 2009-05-17 |
| Fisher Towers | Southeast Utah | 5 | 4.2 miles | 2009-05-10 |
| Negro Bill Canyon | Southeast Utah | 3 | 4.4 miles | 2009-05-03 |
| Lakeside Trail, Antelope Island State Park | Northern Utah | 1 | 5.6 miles | 2008-10-18 |
| Petrified Forest Trail - Escalante Petrified Forest State Park | Southern Utah | 3 | 2 | 2008-10-10 |
| Foreman Hollow Nature Trail - Heber City | Northeast Utah/ Uintas | 3 | 3.3 miles | 2008-10-05 |
| The Notch - Uinta Mountains | Northeast Utah/ Uintas | 3 | 4.6 miles | 2008-09-27 |
| Bench Lake - Uinta Mountains | Northeast Utah/ Uintas | 1 | 5.4 miles | 2008-09-20 |
| Jardine Juniper trail - Logan Canyon | Northern Utah | 3 | 8.8 miles - for shady route | 2008-09-12 |
| Stewarts Cascades - Provo Canyon | Central Utah | 1 | 3.4 miles | 2008-09-07 |
| Cherry Canyon Logging Trail | Wasatch Canyons | 5 | 7.8 | 2008-08-31 |
| Bells Canyon waterfalls - Wasatch Mountains | Wasatch Canyons | 3 | 5.08 miles | 2008-08-21 |
| Murdock Peak | Wasatch Canyons | 5 | 4.5 miles | 2008-08-14 |
| Round Lake - Uinta Mountains | Northeast Utah/ Uintas | 5 | 6 miles | 2008-08-07 |
| Canyon Rim Trail - Flaming Gorge National Recreation Area | Northeast Utah/ Uintas | 1 | 8.7 miles | 2008-07-31 |
| White Pine Lake, Logan Canyon | Northern Utah | 3 | 7 Miles | 2008-07-24 |
| Dale Peak | Wasatch Canyons | 5 | 5.2 | 2008-07-17 |
| Nobletts Creek Trail - Uinta Mountains | Northeast Utah/ Uintas | 1 | 2 miles | 2008-07-10 |
| Brown Duck Trail - Uinta Mountains in the Ashley National Forest | Northeast Utah/ Uintas | 3 | 7.5 miles | 2008-07-03 |
| Wind Cave in Logan Canyon | Northern Utah | 3 | 3.2 miles | 2008-06-12 |
| The Living Room and nearby ridgeline loop | Wasatch Canyons | 3 | 4.2 miles | 2008-06-05 |
| Lava Flow Overlook and Trail/Butterfly Trail | Southern Utah | 1 | 1.2 miles one way | 2008-05-22 |
| Little Wild Horse and Bell Canyon trail loop | Southeast Utah | 5 | 8.3 miles | 2008-05-15 |
| Navajo Knobs and Rim Overlook Trails - Capitol Reef National Park | Southern Utah | 5 | 9.2 miles | 2008-01-03 |
| Golden Throne Trail - Capitol Reef National Park | Southern Utah | 3 | 4 miles | 2007-12-27 |
| Tibble Fork/Mill Canyon Trails - Utah County | Central Utah | 5 | 7 miles | 2007-12-20 |
| Syncline Trail Loop - Island in the Sky, Canyonlands National Park | Southeast Utah | 5 | 8.3 miles | 2007-12-13 |
| Chimney Rock Trail - Capitol Reef National Park | Southern Utah | 3 | 3.7 miles | 2007-12-06 |
| Mesa Arch Trail - Canyonlands National Park, Island in the Sky District | Southeast Utah | 1 | 1/2 mile loop | 2007-11-29 |
| Frary Peak Trail - Antelope Island State Park | Northern Utah | 5 | 6.8 miles | 2007-11-22 |
| Escalante River Trail | Southern Utah | 1 | 5 miles | 2007-11-15 |
| Thaynes Canyon loop - Mill Creek Canyon | Wasatch Canyons | 5 | 5.75 miles | 2007-11-01 |
| Mount Aire Trail - Mill Creek Canyon | Wasatch Canyons | 5 | 3.75 miles | 2007-10-25 |
| Ogden Canyon Overlook Trail - Weber County | Northern Utah | 3 | 5 miles | 2007-10-18 |
| Great Western Trail to Bald Mountain - East Canyon | Wasatch Canyons | 3 | 6.8 miles | 2007-10-11 |
| Ridge Trail 157 loop - Utah Wasatch Counties | Central Utah | 3 | 6.2 miles | 2007-10-04 |
| Gobblers Knob from Butler Fork - Big Cottonwood Canyon | Wasatch Canyons | 5 | 8.4 miles | 2007-09-27 |
| Highline Trail to Packard Lake - Uinta Mountains | Northeast Utah/ Uintas | 3 | 8.2 miles | 2007-09-13 |
| Timpooneke Trail to Emerald Lake - Utah County | Central Utah | 5 | 12.9 miles | 2007-09-06 |
| Lofty Lake Loop Trail - Uinta Mountains | Northeast Utah/ Uintas | 5 | 4.2 miles | 2007-08-30 |
| Clayton Peak - Big Cottonwood Canyon | Wasatch Canyons | 3 | 6.2 miles | 2007-08-16 |
| The Canyons Resort trails - Summit County | Northeast Utah/ Uintas | 3 | 5.4 miles | 2007-08-09 |
| Millvue Peak - Mill Creek Canyon | Wasatch Canyons | 5 | 5 miles | 2007-08-02 |
| Five lakes loop at Brighton - Big Cottonwood Canyon | Wasatch Canyons | 5 | 6.7 miles | 2007-07-19 |
| Circle All Peak - Big Cottonwood Canyon | Wasatch Canyons | 3 | 3.4 miles | 2007-07-12 |
| Bowman Trail to Baker Spring - Mill Creek Canyon | Wasatch Canyons | 5 | 7 miles | 2007-06-28 |
| Great Western Trail to Big Mountain - East Canyon | Wasatch Canyons | 3 | 5 miles | 2007-06-21 |
| Battle and Grove Creek Trails | Central Utah | 5 | 8.5 miles | 2007-06-07 |
| North Canyon Trail - Davis County | Northern Utah | 5 | 6.8 miles | 2007-05-31 |
| Ghost Falls North & South Trails - Salt Lake County | Wasatch Canyons | 3 | 6.2 miles | 2007-05-17 |
| White Rock Loop Trail - Antelope Island State Park | Northern Utah | 5 | 7.5 miles | 2007-05-10 |
| Upper Corner Canyon Road to Jacobs Ladder Trail - Salt Lake County | Wasatch Canyons | 5 | 8 miles | 2007-05-03 |
| Grove Creek Trail - Utah County | Central Utah | 3 | 4 miles | 2007-04-26 |
| Holbrook Canyon Trail - Davis County | Northern Utah | 3 | 4 miles | 2007-04-19 |
| Devils Garden Trail to Double O Arch - Arches National Park | Southeast Utah | 3 | 5.5 miles, including Navajo and Partition Arches | 2007-04-05 |
| Silver Fork - Big Cottonwood Canyon | Wasatch Canyons | 1 | 3.85 miles | 2007-03-22 |
| Desolation Trail to Salt Lake Valley Overlook | Wasatch Canyons | 1 | 4.48 miles | 2007-03-15 |
| Catherine Pass winter trail - Little Cottonwood Canyon | Wasatch Canyons | 5 | 4.35 miles | 2007-03-01 |
| Bowman Trail to White Fir Pass - Mill Creek Canyon | Wasatch Canyons | 5 | 4.2 miles | 2007-02-22 |
| Doughnut Falls - Big Cottonwood Canyon | Wasatch Canyons | 1 | 3.14 miles | 2007-02-15 |
| Greens Basin Trail - Big Cottonwood Canyon | Wasatch Canyons | 3 | 2.9 miles | 2007-02-01 |
| Alexander Spring, Sheep Trail - Salt Lake County | Wasatch Canyons | 1 | 5.3 miles | 2007-01-18 |
| USA Bowl - Big Cottonwood Canyon | Wasatch Canyons | 1 | 3.4 miles | 2007-01-04 |
| Fisher Towers Trail - Colorado Riverway Recreation Area | Southeast Utah | 3 | 4.5 miles | 2006-12-28 |
| Soapstone Basin - Mirror Lake Highway | Northeast Utah/ Uintas | 3 | 6 miles | 2006-12-21 |
| Scotts Pass - Big Cottonwood Canyon | Wasatch Canyons | 1 | 4 miles | 2006-12-14 |
| Cassidy Arch Trail - Capitol Reef National Park | Southern Utah | 5 | 3.5 miles | 2006-12-07 |
| Mill D North Fork Trail to Dog Lake - Big Cottonwood Canyon | Wasatch Canyons | 3 | 4.6 miles | 2006-11-30 |
| Alta - Brighton Trail, Grizzly Gulch | Wasatch Canyons | 3 | 4.2 miles | 2006-11-23 |
| Loop trail, Stansbury Mountains - Tooele County | West Desert | 5 | 8.5 miles | 2006-11-16 |
| Mill B North Fork Trail - Big Cottonwood Canyon | Wasatch Canyons | 5 | 5 miles | 2006-11-09 |
| Mueller Park Trail - Davis County | Northern Utah | 2 | 7 miles | 2006-11-02 |
| Mill D North Fork Trail - Big Cottonwood Canyon | Wasatch Canyons | 3 | 7.5 miles | 2006-10-26 |
| Mineral Fork Trail - Big Cottonwood Canyon | Wasatch Canyons | 5 | 6.2 miles | 2006-10-19 |
| Deseret Peak Trail - Tooele County | West Desert | 4 | 8.7 | 2006-10-12 |
| Catherine Pass to Sunset Peak Trail - Little Cottonwood Canyon | Wasatch Canyons | 3 | 4.4 miles | 2006-10-05 |
| Dry Creek Trail - Utah County | Central Utah | 4 | 7 miles | 2006-09-28 |
| White Rim Overlook - Canyonlands National Park, Island in the Sky District | Southeast Utah | 1 | 1.75 miles | 2006-09-21 |
| Naomi Peak Trail - Cache County | Northern Utah | 2 | 6.5 miles | 2006-09-14 |
| White Pine Lake Trail - Little Cottonwood Canyon | Wasatch Canyons | 2 | 10 miles | 2006-09-07 |
| Cecret Lake Trail - Little Cottonwood Canyon | Wasatch Canyons | 1 | 2 | 2006-08-24 |
| Clyde Lake (Crystal Lake Trails) - Summit County | Northeast Utah/ Uintas | 1 | 4 miles | 2006-08-17 |
| Butler Fork Trail - Big Cottonwood Canyon | Wasatch Canyons | 3 | 7.2 miles | 2006-08-10 |
| Maybird Trail - Little Cottonwood Canyon | Wasatch Canyons | 3 | 7 miles | 2006-08-03 |
| Silver Lake Trail | Central Utah | 3 | 4.75 miles | 2006-07-27 |
| Lake Blanche Trail - Big Cottonwood Canyon | Wasatch Canyons | 3 | 6.5 miles | 2006-07-20 |
| South Willow Lake Trail | West Desert | 3 | 7 miles | 2006-07-13 |
| Ensign Peak Trail | Wasatch Canyons | 1 | 1 mile | 2006-07-06 |
| Medina Flat Trail | West Desert | 1 | 4.5 miles | 2006-06-29 |
| Killyon Canyon Trail | Wasatch Canyons | 3 | 6 miles | 2006-06-22 |
| Indian Trail | Northern Utah | 3 | 4.3 miles | 2006-06-15 |
| Taylor Canyon Trail | Northern Utah | 3 | 4.70 miles | 2006-06-08 |
| Adams Canyon Trail | Northern Utah | 4 | 3.75 miles | 2006-06-01 |
| Waterfall Canyon Trail | Northern Utah | 4 | 2.90 miles | 2006-05-25 |
| Corona Arch Trail | Southeast Utah | 2 | 2.5 miles | 2006-05-18 |
| Farmington Canyon/Sunset Trail | Northern Utah | 2 | 3.8 miles | 2006-05-11 |
| Parrish Creek Trail | Northern Utah | 3 | 4.5 miles | 2006-05-04 |
| Stansbury Island Mountain Bike Trail | Wasatch Canyons | 1 | 4.8 miles | 2006-04-27 |
| White Rock Loop and Elephant Head Trail - Antelope Island State Park | Northern Utah | 1 | 8.7 miles | 2006-04-20 |
| Big Beacon (Mt. Wire) - Wasatch Front | Wasatch Canyons | 3 | 4.25 miles | 2006-04-13 |
| Shoreline Trail (Dry Creek access) - Wasatch Front | Wasatch Canyons | 2 | 4.5 miles | 2006-04-06 |
| Days Fork Trail - Big Cottonwood Canyon | Wasatch Canyons | 3 | 4 miles | 2006-03-30 |
| Red Pine Lake Trail - Little Cottonwood Canyon | Wasatch Canyons | 3 | 6.18 miles | 2006-03-23 |
| Neffs Canyon Trail - Wildcat Ridge Wasatch | Wasatch Canyons | 5 | 5 miles | 2006-03-16 |
| Great Gallery, Horseshoe Canyon | Southeast Utah | 3 | 6.5 miles | 2006-03-09 |
| Kenney Creek Trail - Mueller Park in Bountiful | Northern Utah | 5 | 4 miles | 2006-03-02 |
| Hidden Pinyon Trail - Snow Canyon State Park | Southern Utah | 3 | 1.5 miles | 2006-02-23 |
| Porter Fork Trail - Mill Creek Canyon | Wasatch Canyons | 3 | 5.2 miles | 2006-02-16 |
| Wheeler Creek Trail - Cache National Forest | Northern Utah | 3 | 4.75 miles | 2006-02-09 |
| Solitude Nordic Center - Big Cottonwood Canyon | Wasatch Canyons | 1 | 20 kilometers of ski track; 10k of snowshoe trail | 2006-02-02 |
| Alpine Loop Road - Uinta National Forest | Central Utah | 3 | 5.7 miles | 2006-01-26 |
| Beaver Creek Trail, Wasatch-Cache National Forest | Northeast Utah/ Uintas | 1 | 12 miles for entire stretch | 2006-01-19 |
| Pipeline Trail - Mill Creek Canyon | Wasatch Canyons | 1 | 5 miles | 2006-01-12 |
| Emerald Pools, Zion National Park | Southern Utah | 3 | 1.2 to Lower, 2 to Middle, 0.6 to Upper from Midd | 2006-01-05 |
| Donkey Ridge Trail - Wasatch Mountain State Park | Northeast Utah/ Uintas | 1 | 3 miles | 2005-12-29 |
| Mormon Pioneer Trail - East Canyon | Wasatch Canyons | 1 | 4.5 miles | 2005-12-22 |
| Hickman Bridge - Capitol Reef National Park | Southern Utah | 3 | 2 miles | 2005-12-15 |
| Terraces Trail - Mill Creek Canyon | Wasatch Canyons | 3 | From turn around, 3 miles | 2005-12-08 |
| City Creek Trail - City Creek Canyon | Wasatch Canyons | 1 | 5.5 miles | 2005-12-01 |
| Ferguson Canyon - Wasatch Front | Wasatch Canyons | 3 | 3.5 miles | 2005-11-24 |
| Avenues Twin Peaks - Wasatch Front | Wasatch Canyons | 3 | 4 miles | 2005-11-17 |
| Bell Canyon Trail - Bells Canyon | Wasatch Canyons | 1 | 3 miles | 2005-11-10 |
| Rattlesnake Gulch and Pipeline Trails - Mill Creek Canyon | Wasatch Canyons | 3 | 3.8 miles | 2005-11-03 |
| Frary Peak, Antelope Island State Park | Northern Utah | 3 | 6.5 miles | 2005-10-27 |
| Sentry Peak, Antelope Island State Park | Northern Utah | 3 | 7 miles | 2005-10-20 |
| Mount Olympus Trail - Mount Olympus Wilderness area | Wasatch Canyons | 5 | 7 miles | 2005-10-13 |
| Dog Lake - Mill Creek Canyon | Wasatch Canyons | 3 | 5 miles | 2005-10-06 |
| Twin Lakes Reservoir, Solitude Lake and Silver Lake - Big Cottonwood Canyon | Wasatch Canyons | 3 | 4.8 miles | 2005-09-29 |
| Grandeur Peak, Mill Creek Canyon | Wasatch Canyons | 5 | 6.5 miles | 2005-09-22 |
| Snake Creek Pass - Big Cottonwood Canyon | Wasatch Canyons | 3 | 4.5 miles | 2005-09-15 |
| Mormon Pioneer Trail - East Canyon drainage | Northeast Utah/ Uintas | 1 | 4 miles | 2005-09-08 |
| Lambs Canyon Trail - Lambs Canyon | Wasatch Canyons | 3 | 3 1/4 miles | 2005-09-01 |
| Lake Mary/Martha/Catherine and Dog Lake Trail - Big Cottonwood Canyon | Wasatch Canyons | 3 | 4.2 mile | 2005-08-25 |
| Willow Heights Trail, Big Cottonwood Canyon | Wasatch Canyons | 3 | 1 1/2 miles | 2005-08-18 |
| Desolation Trail to Salt Lake Overlook, Mill Creek | Wasatch Canyons | 3 | 4 miles | 2005-08-11 |
Red Pine Road Loop
Region:
Destination: Red Pine Road, Millcreek Canyon
Distance: 4.2 miles
Time: 2 hours
Elevation Gain: 1,000 feet
Dog Allowed: Yes, leashed on even calendar days
Restrooms: Yes
Biking: Yes
Difficulty: 1
First published 2012-10-25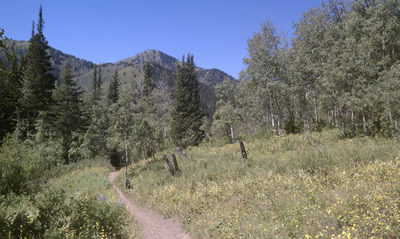 This hike goes up little footpaths along a shady stream in Millcreek Canyon and comes back down an improved mountain bike path.
Getting there: From the Little Water trailhead at the top of Millcreek Canyon, go east. At 0.1 mile, cross the bridge and continue east. At 0.6 mile, you will arrive at the junction that marks the beginning of the loop. Go right and take the footpaths up the stream. At 1.6 mile, you will reach the junction with the Great Western Trail. Go left onto the Great Western Trail as it turns northeast. At 2 miles, you will arrive at a signed junction for the Red Pine Road. Go left and follow the well-maintained trail as it makes a sunny descent back to the stream and trailhead.