Hike of the week
| Hike | Region | Difficulty | Distance | Published |
| --- | --- | --- | --- | --- |
| Eagle Crags Trail near Rockville | Zion National Park | 3 | 6.14 miles | 2015-10-27 |
| Surprise Canyon -- Capitol Reef National Park | Capitol Reef National Park | 1 | 2 miles | 2015-10-21 |
| Mount Van Cott -- the University of Utah | Wasatch Canyons | 3 | 3.4 miles | 2015-10-15 |
| Big Elk Lake in the Uinta Mountains | Uinta Mountains | 3 | 3.5 miles | 2015-09-30 |
| Silver Lake and Twin Lakes | Wasatch Canyons | 1 | 2 miles | 2015-09-10 |
| Days Fork in Big Cottonwood Canyon | Wasatch Canyons | 3 | 8.12 miles | 2015-09-02 |
| Lakeshore National Recreation Trail at Fish Lake | Central Utah | 1 | 2.8 miles | 2015-08-26 |
| Doctor Creek Trail at Fish Lake | Central Utah | 3 | 3.2 miles | 2015-08-19 |
| White Pine Lake | Cache County | 3 | 7.6 miles | 2015-08-12 |
| Clark's Trail in Corner Canyon | Wasatch Canyons | 3 | 2.8 miles | 2015-08-06 |
| Snowbasin's Green Pond Loop | Wasatch Canyons | 1 | 5.81 miles | 2015-07-29 |
| Maybird Lake in Little Cottonwood Canyon | Wasatch Canyons | 3 | 8.6 miles | 2015-07-23 |
| Limber Flag in Ashley National Forest | Ashley National Forest | 1 | 2 miles | 2015-07-16 |
| North Fork of Deaf Smith Canyon in Cottonwood Heights | Wasatch Canyons | 3 | 3.72 miles | 2015-07-09 |
| Albion Meadow Basin | Wasatch Canyons | 1 | 2.2 miles | 2015-07-01 |
| Lisa Falls | Wasatch Canyons | 1 | 0.3 miles | 2015-06-25 |
| Little Mountain | Wasatch Canyons | 3 | 5.1 miles | 2015-06-17 |
| Sulphur Creek in Capitol Reef National Park | Capitol Reef National Park | 1 | 2.1 miles | 2015-06-10 |
| Beus Canyon | Weber County | 3 | 3 miles | 2015-06-03 |
| Willow Heights Trail | Salt Lake County | 3 | 2.8 miles | 2015-05-27 |
| Fremont River Trail in Capitol Reef National Park | Capitol Reef National Park | 3 | 1.58 miles | 2015-05-20 |
| Stansbury Island Interactive Trail | Tooele County | 3 | 6 miles | 2015-05-13 |
| Old Wagon Trail -- Capitol Reef National Park | Capitol Reef National Park | 3 | 4.1 miles | 2015-05-06 |
| Parrish Canyon Trail in Davis County | Davis County | 3 | 5 miles | 2015-04-30 |
| Holbrook Canyon Trail in Bountiful | Davis County | 3 | 5 miles | 2015-04-23 |
| Pine Canyon Consevation Area - Tooele | Tooele County | 1 | 2.8 miles | 2015-04-16 |
| Jump-off Canyon in Ogden | Weber County | 1 | 2 miles | 2015-04-09 |
| Bountiful Overlook | Davis County | 3 | 3.87 miles | 2015-04-02 |
| South Mule Canyon | San Juan County | 1 | 8 miles | 2014-11-20 |
| Cuberant Lake Trail -- Uinta Mountains | Uinta Mountains | 3 | 5.96 miles | 2014-09-17 |
| Naomi Peak Trail | Cache County | 3 | 6.3 miles | 2014-09-08 |
| South Fork of Deaf Smith Canyon in Cottonwood Heights | Salt Lake County | 3 | 4 miles | 2014-08-06 |
| Shingle Creek Trail -- Uinta Mountains | Uinta Mountains | 5 | 13.32 miles | 2014-08-01 |
| LaVerkin Creek -- Zion National Park | Zions National Park | 5 | 9.97 miles | 2014-07-16 |
| Beartrap Fork in Big Cottonwood Canyon | Salt Lake County | 5 | 5.2 miles | 2014-07-10 |
| Brooks Nature Park and Owens Loop | Washington County | 5 | 3.5 miles | 2014-06-25 |
| Hidden Canyon -- Zion National Park | Zions National Park | 3 | 3 miles | 2014-05-14 |
| Water Canyon -- Hildale | Washington County | 1 | 2.56 miles | 2014-04-09 |
| Alexander Basin in Millcreek Canyon | Salt Lake County | 5 | 1.74 miles | 2013-11-13 |
| Hot Pots or Fifth Water in Utah County | Utah County | 1 | 5.14 miles | 2013-10-30 |
| River Trail in Logan Canyon | Cache County | 1 | 7.4 miles | 2013-10-10 |
| Wild Rose Trail -- North Salt Lake | Davis County | 1 | 3.7 miles | 2013-10-03 |
| Private Arch -- Arches National Park | Arches National Park | 3 | 3.47 miles | 2013-09-26 |
| Broads Fork Trail -- Big Cottonwood Canyon | Salt Lake County | 3 | 5.16 miles | 2013-09-19 |
| Alpine Pond at Cedar Breaks | Iron County | | | 2013-08-22 |
| Wheeler Canyon | Weber County | 3 | 5.1 miles | 2013-08-14 |
| Spectra Point and Ramparts Overlook | Cedar Breaks National Monument | 3 | 3.35 miles | 2013-08-05 |
| Crystal Lake Trailhead to Long Lake | Uinta Mountains | 3 | 5.46 miles | 2013-07-30 |
| Birdsong Trail | Weber County | 3 | 3.62 miles | 2013-07-21 |
| Grotto Trail | Utah County | 1 | 1.2 miles | 2013-06-20 |
| Mill Creek in Moab | Moab | 1 | 2 miles | 2013-06-13 |
| The Jewel Tibbetts Arch | Moab | 1 | 1.5 miles | 2013-06-06 |
| Ferguson Canyon | Salt Lake County | 3 | 3.5 miles | 2013-05-30 |
| Adams Canyon - Layton | Davis County | 3 | 3.6 miles | 2013-05-23 |
| Spooky Gulch | Grand Staircare-Escalante National Monument | 1 | 3 miles | 2013-05-16 |
| Red Butte Nature Trail | Salt Lake County | 1 | 4 miles | 2013-05-09 |
| Hellhole Trail -- Ivins | Southern Utah | 3 | 4 miles | 2013-04-18 |
| Davis creek trail | Davis County | 3 | 3 miles | 2013-04-16 |
| Clark Lake -- Moab | Grand County | 1 | 2.2 miles | 2012-10-31 |
| Red Pine Road Loop | | 1 | 4.2 miles | 2012-10-25 |
| Holmes Creek -- Webb Canyon | Davis County | 5 | 2.7 miles | 2012-09-25 |
| Fehr and Shepard lakes -- Uinta Mountains | Uinta Mountains | 1 | 3.18 miles | 2012-09-06 |
| Left Hand Fork/Ridge Trail | Tooele County | 3 | 3 miles | 2012-08-12 |
| Cecret Lake | Salt Lake County | 1 | 1.94 miles | 2012-08-10 |
| Little Cottonwood Trail | Salt Lake County | 1 | 6.5 miles | 2012-08-07 |
| Deer Creek Lake -- Boulder Mountain | Southern Utah | 3 | 6.1 miles | 2012-07-12 |
| Murphy Point Overlook -- Canyonlands National Park | Canyonlands National Park | 1 | 3.58 miles | 2012-07-05 |
| Notch Peak in western Utah | Western Utah | 5 | 8.4 miles | 2012-06-20 |
| Hidden Valley -- Ogden | Weber County | 3 | 5.18 miles | 2012-06-13 |
| Carmel Canyon Trail in Goblin Valley | Southern Utah | 3 | 1.4 miles | 2012-06-06 |
| Jack's Mountain mailboxes | Salt Lake City | 3 | 3.2 miles | 2012-06-02 |
| Slickrock Trail -- Canyonlands National Park | Canyonlands National Park | 1 | 2.8 miles | 2012-05-30 |
| Druid Arch -- Canyonlands National Park | Canyonlands National Park | 5 | 15.9 miles | 2012-05-12 |
| Bowman Fork to Baker Pass in Millcreek Canyon | Salt Lake County | 3 | 6.5 miles | 2012-05-02 |
| Chuckwalla and Halfway Wash trails -- St. George | Washington County | 1 | 3 miles | 2012-04-10 |
| Pine Creek nature trail | Summit County | 1 | 2.4 miles | 2011-11-14 |
| Portal Overlook Trail | Grand County | 1 | 3.6 miles | 2011-10-31 |
| Boren Mesa Trail -- Moab | Grand County | 1 | 5.6 miles | 2011-10-14 |
| Cardiff Pass -- Little Cottonwood Canyon | Salt Lake County | 3 | 4.6 miles | 2011-08-30 |
| Over Easy Trail | Salt Lake County | 5 | 6.4 miles | 2011-08-30 |
| Wolf Canyon Trail - Eden | Eden | 1 | 6.4 miles | 2011-08-07 |
| Jardine Juniper trail -- Logan Canyon | Logan Canyon | 3 | 8.8 miles | 2011-07-24 |
| Bells Canyon Waterfalls | Salt Lake County | 3 | 5.08 miles | 2011-07-17 |
| Neck Spring Trail -- Canyonlands National Park | | 3 | 6 miles | 2011-07-10 |
| Killyon Canyon | | 3 | | 2011-07-03 |
| Short Stack | | 5 | 4.4 miles | 2011-06-26 |
| Burnt Ridge | Wasatch County | 3 | 3.5 miles | 2011-06-19 |
| Faux Falls near Moab | Moab | 1 | 2 miles | 2011-06-12 |
| Gorgoza Park Up and Road to Arcylon trails | Summit County | 1 | 4.5 miles | 2011-06-05 |
| Gorgoza Park Peak | Summit County | 1 | 2.4 miles | 2011-05-29 |
| Mid-Valley Trail -- Tooele | Tooele | 1 | 5.4 miles | 2011-05-22 |
| Willis Creek -- Grand Staircase-Escalante National Monument | Grand Staircase-Escalante National Monument | 3 | 4.4 miles | 2011-05-15 |
| Lower Calf Creek Falls -- Grand Staircase-Escalante National Monument | Grand Staircase-Escalante National Monument | 1 | 5.6 miles | 2011-05-08 |
| Hunters Canyon | Moab | 1 | 4 miles | 2011-05-01 |
| Hidden Valley | Moab | 5 | 4 miles | 2011-04-24 |
| East Fork yurt -- Uintas | Uintas | 1 | 3.6 miles | 2011-04-17 |
| T-Bone Trail -- St. George | St. George | 1 | 4 miles | 2011-04-10 |
| Rocky Peak, Oquirrh Mountains | Oquirrh Mountains | 5 | 7 miles | 2010-11-21 |
| Delicate Arch - Arches National Park | Arches National Park | 1 | 4 miles | 2010-11-14 |
| Loop Trail -- Natural Bridges National Monument | Natural Bridges National Monument | 3 | 7.8 miles | 2010-11-07 |
| Rock Castle -- Salt Lake County | Salt Lake County | 5 | 3 miles | 2010-10-31 |
| Parleys Canyon Trailhead | Salt Lake County | 5 | 2.8 miles plus | 2010-10-24 |
| Bullfrog Marina Nature Trail | Lake Powell | 3 | 1.5 miles | 2010-10-17 |
| Jeremy Ranch 24-7 Trail | Summit County | 1 | 4 miles | 2010-10-10 |
| Pine Hollow -- American Fork Canyon | Utah County | 3 | 3.6 miles | 2010-10-03 |
| Clegg Canyon Trail - Daniels Canyon | | 3 | 8.5 miles | 2010-09-26 |
| Island Lake - Uinta Mountains | Uinta Mountains | 3 | 6 miles | 2010-09-19 |
| Bunting Trail - Kanab | | 1 | 2.4 miles | 2010-09-12 |
| East Basin, Uintas | Uintas | 3 | 28 miles | 2010-09-05 |
| Gooseberry Trail and White Rim Overlook - Canyonlands | Canyonlands | 5 | 4.8 miles | 2010-08-29 |
| Burch Hollow - Terraces loop | Mill Creek Canyon, Wasatch Range | 3 | 6.4 miles | 2010-08-22 |
| Wall Lake - Uintas | Unitas | 1 | 3.2 miles | 2010-08-15 |
| Fossil Discovery Trail | Uintah County | 1 | 0.75 miles | 2010-08-08 |
| Reynolds Peak, Mill Creek Canyon | Wasatch Mountains | 3 | 5.5 miles | 2010-08-01 |
| Maple Canyon Loop Trail | Sanpete County | 3 | 2.5 miles | 2010-07-31 |
| Rosevere Point | | 3 | 5.2 miles | 2010-07-25 |
| McConkie Ranch | Vernal | 1 | Canyon wall trail is 0.8 mile, Three Kings trail is 1.2 mile | 2010-07-16 |
| Old Ephraim's Grave -- Logan Canyon | Logan Canyon | 5 | 11.8 miles | 2010-07-11 |
| Days Canyon -- Hobble Creek Canyon | | 3 | 4.2 miles | 2010-07-04 |
| Silver Lake -- American Fork Canyon | Utah County | 3 | 4 miles | 2010-06-27 |
| Mule Hollow | Big Cottonwood Canyon | 3 | 2.4 miles | 2010-06-20 |
| Mollie's Nipple, Pump Ridge, Hobble Creek Canyon | Utah County | 3 | 6.5 miles | 2010-06-13 |
| Eagle Canyon Arch -- San Rafael Swell | San Rafael Swell | 1 | 4.8 miles | 2010-06-06 |
| Jacks Mountain mailboxes | Salt Lake County | 3 | 3.2 miles | 2010-05-30 |
| Capitol Reef National Park: Grand Wash | Capitol Reef National Park | 1 | 4 miles | 2010-05-23 |
| Radio towers hike | Salt Lake County | 0 | | 2010-05-16 |
| Corona and Bowtie arches -- Moab | | 1 | 2.5 miles | 2010-05-09 |
| Emerald Pools Trail -- Zion National Park | Zion National Park | 3 | 1.2 to Lower, 2 to Middle, 0.6 to Upper to Middle | 2010-05-04 |
| Capitol Reef: Frying Pan Trail | Capitol Reef National Park | 3 | 3.2 miles | 2010-05-02 |
| Moab Rim Trail -- Moab | Moab | 3 | 8 miles | 2010-04-26 |
| Spring Creek Canyon - Iron County | Iron County | 1 | 2.8 miles | 2010-04-18 |
| Three Ponds -- Snow Canyon State Park | Southwest Utah | 1 | 3.3 miles round trip | 2010-04-11 |
| Panorama Trail -- Kodachrome Basin
 State Park | | 1 | 3.7 miles | 2009-11-01 |
| Five Mile Wash -- 
Wayne County | Wayne County | 1 | 3.4 miles | 2009-10-25 |
| Shoreline Trail (Terrace Hills Drive access) to Old Cars | Salt Lake County | 1 | 2.4 miles | 2009-10-18 |
| Fifth Water (or Hot Pots) | Utah County | 1 | 4.8 miles | 2009-10-03 |
| Forest Lake - 
American
 Fork Canyon | Utah County | 1 | 3.8 miles | 2009-09-27 |
| Skull Crack Trail,
 Causey Reservoir | Weber County | 3 | 4.6 miles | 2009-09-20 |
| Little Black Mountain | Salt Lake County | 5 | 7.4 miles | 2009-09-11 |
| Red Butte Peak | Salt Lake County | 3 | 2.6 miles | 2009-09-06 |
| Hat Shop -- Bryce Canyon National Park | Bryce Canyon National Park | 3 | 3.7 miles | 2009-08-21 |
| Thornton Hollow Daniels Canyon | Wasatch County | 1 | 4.2 miles | 2009-08-14 |
| Peekaboo-Queens Garden Loop - Bryce Canyon | Bryce Canyon | 3 | 5.5 miles | 2009-08-07 |
| Emigration Canyon-Miners Trail | Emigration Canyon | 3 | 4.8 miles | 2009-07-31 |
| Left Fork of Huntington Canyon | Manti-La Sal National Forest | 1 | 5.4 miles | 2009-07-26 |
| Dixie National Forest Lost Hunter loop trail | Cedar City | 1 | 2.42 miles | 2009-07-17 |
| Center Canyon to Clegg Canyon | Wasatch County | 3 | 1.36 miles | 2009-07-12 |
| Crimson Trail | Logan Canyon | 1 | 2.1 miles | 2009-07-05 |
| Intrepid Trail System, Dead Horse Point State Park | Southeast Utah | 1 | 1.1 to 9 miles | 2009-06-28 |
| Fiery Furnace | Arches National Park | 3 | 2 miles | 2009-06-21 |
| Doughnut Falls | Salt Lake County | 1 | 1.5 miles | 2009-06-14 |
| Parrish Canyon Trail | Davis County | 3 | 4 miles | 2009-06-07 |
| Short Stansbury Island hike | Davis County | 3 | 3.4 miles | 2009-05-29 |
| Tower Arch | La Sal Mountains | 3 | 2.6 miles | 2009-05-22 |
| Stansbury Island Trail loop | Davis County | 3 | 5.8 miles | 2009-05-17 |
| Fisher Towers | Southeast Utah | 5 | 4.2 miles | 2009-05-10 |
| Negro Bill Canyon | Southeast Utah | 3 | 4.4 miles | 2009-05-03 |
| Lakeside Trail, Antelope Island State Park | Northern Utah | 1 | 5.6 miles | 2008-10-18 |
| Petrified Forest Trail - Escalante Petrified Forest State Park | Southern Utah | 3 | 2 | 2008-10-10 |
| Foreman Hollow Nature Trail - Heber City | Northeast Utah/ Uintas | 3 | 3.3 miles | 2008-10-05 |
| The Notch - Uinta Mountains | Northeast Utah/ Uintas | 3 | 4.6 miles | 2008-09-27 |
| Bench Lake - Uinta Mountains | Northeast Utah/ Uintas | 1 | 5.4 miles | 2008-09-20 |
| Jardine Juniper trail - Logan Canyon | Northern Utah | 3 | 8.8 miles - for shady route | 2008-09-12 |
| Stewarts Cascades - Provo Canyon | Central Utah | 1 | 3.4 miles | 2008-09-07 |
| Cherry Canyon Logging Trail | Wasatch Canyons | 5 | 7.8 | 2008-08-31 |
| Bells Canyon waterfalls - Wasatch Mountains | Wasatch Canyons | 3 | 5.08 miles | 2008-08-21 |
| Murdock Peak | Wasatch Canyons | 5 | 4.5 miles | 2008-08-14 |
| Round Lake - Uinta Mountains | Northeast Utah/ Uintas | 5 | 6 miles | 2008-08-07 |
| Canyon Rim Trail - Flaming Gorge National Recreation Area | Northeast Utah/ Uintas | 1 | 8.7 miles | 2008-07-31 |
| White Pine Lake, Logan Canyon | Northern Utah | 3 | 7 Miles | 2008-07-24 |
| Dale Peak | Wasatch Canyons | 5 | 5.2 | 2008-07-17 |
| Nobletts Creek Trail - Uinta Mountains | Northeast Utah/ Uintas | 1 | 2 miles | 2008-07-10 |
| Brown Duck Trail - Uinta Mountains in the Ashley National Forest | Northeast Utah/ Uintas | 3 | 7.5 miles | 2008-07-03 |
| Wind Cave in Logan Canyon | Northern Utah | 3 | 3.2 miles | 2008-06-12 |
| The Living Room and nearby ridgeline loop | Wasatch Canyons | 3 | 4.2 miles | 2008-06-05 |
| Lava Flow Overlook and Trail/Butterfly Trail | Southern Utah | 1 | 1.2 miles one way | 2008-05-22 |
| Little Wild Horse and Bell Canyon trail loop | Southeast Utah | 5 | 8.3 miles | 2008-05-15 |
| Navajo Knobs and Rim Overlook Trails - Capitol Reef National Park | Southern Utah | 5 | 9.2 miles | 2008-01-03 |
| Golden Throne Trail - Capitol Reef National Park | Southern Utah | 3 | 4 miles | 2007-12-27 |
| Tibble Fork/Mill Canyon Trails - Utah County | Central Utah | 5 | 7 miles | 2007-12-20 |
| Syncline Trail Loop - Island in the Sky, Canyonlands National Park | Southeast Utah | 5 | 8.3 miles | 2007-12-13 |
| Chimney Rock Trail - Capitol Reef National Park | Southern Utah | 3 | 3.7 miles | 2007-12-06 |
| Mesa Arch Trail - Canyonlands National Park, Island in the Sky District | Southeast Utah | 1 | 1/2 mile loop | 2007-11-29 |
| Frary Peak Trail - Antelope Island State Park | Northern Utah | 5 | 6.8 miles | 2007-11-22 |
| Escalante River Trail | Southern Utah | 1 | 5 miles | 2007-11-15 |
| Thaynes Canyon loop - Mill Creek Canyon | Wasatch Canyons | 5 | 5.75 miles | 2007-11-01 |
| Mount Aire Trail - Mill Creek Canyon | Wasatch Canyons | 5 | 3.75 miles | 2007-10-25 |
| Ogden Canyon Overlook Trail - Weber County | Northern Utah | 3 | 5 miles | 2007-10-18 |
| Great Western Trail to Bald Mountain - East Canyon | Wasatch Canyons | 3 | 6.8 miles | 2007-10-11 |
| Ridge Trail 157 loop - Utah Wasatch Counties | Central Utah | 3 | 6.2 miles | 2007-10-04 |
| Gobblers Knob from Butler Fork - Big Cottonwood Canyon | Wasatch Canyons | 5 | 8.4 miles | 2007-09-27 |
| Highline Trail to Packard Lake - Uinta Mountains | Northeast Utah/ Uintas | 3 | 8.2 miles | 2007-09-13 |
| Timpooneke Trail to Emerald Lake - Utah County | Central Utah | 5 | 12.9 miles | 2007-09-06 |
| Lofty Lake Loop Trail - Uinta Mountains | Northeast Utah/ Uintas | 5 | 4.2 miles | 2007-08-30 |
| Clayton Peak - Big Cottonwood Canyon | Wasatch Canyons | 3 | 6.2 miles | 2007-08-16 |
| The Canyons Resort trails - Summit County | Northeast Utah/ Uintas | 3 | 5.4 miles | 2007-08-09 |
| Millvue Peak - Mill Creek Canyon | Wasatch Canyons | 5 | 5 miles | 2007-08-02 |
| Five lakes loop at Brighton - Big Cottonwood Canyon | Wasatch Canyons | 5 | 6.7 miles | 2007-07-19 |
| Circle All Peak - Big Cottonwood Canyon | Wasatch Canyons | 3 | 3.4 miles | 2007-07-12 |
| Bowman Trail to Baker Spring - Mill Creek Canyon | Wasatch Canyons | 5 | 7 miles | 2007-06-28 |
| Great Western Trail to Big Mountain - East Canyon | Wasatch Canyons | 3 | 5 miles | 2007-06-21 |
| Battle and Grove Creek Trails | Central Utah | 5 | 8.5 miles | 2007-06-07 |
| North Canyon Trail - Davis County | Northern Utah | 5 | 6.8 miles | 2007-05-31 |
| Ghost Falls North & South Trails - Salt Lake County | Wasatch Canyons | 3 | 6.2 miles | 2007-05-17 |
| White Rock Loop Trail - Antelope Island State Park | Northern Utah | 5 | 7.5 miles | 2007-05-10 |
| Upper Corner Canyon Road to Jacobs Ladder Trail - Salt Lake County | Wasatch Canyons | 5 | 8 miles | 2007-05-03 |
| Grove Creek Trail - Utah County | Central Utah | 3 | 4 miles | 2007-04-26 |
| Holbrook Canyon Trail - Davis County | Northern Utah | 3 | 4 miles | 2007-04-19 |
| Devils Garden Trail to Double O Arch - Arches National Park | Southeast Utah | 3 | 5.5 miles, including Navajo and Partition Arches | 2007-04-05 |
| Silver Fork - Big Cottonwood Canyon | Wasatch Canyons | 1 | 3.85 miles | 2007-03-22 |
| Desolation Trail to Salt Lake Valley Overlook | Wasatch Canyons | 1 | 4.48 miles | 2007-03-15 |
| Catherine Pass winter trail - Little Cottonwood Canyon | Wasatch Canyons | 5 | 4.35 miles | 2007-03-01 |
| Bowman Trail to White Fir Pass - Mill Creek Canyon | Wasatch Canyons | 5 | 4.2 miles | 2007-02-22 |
| Doughnut Falls - Big Cottonwood Canyon | Wasatch Canyons | 1 | 3.14 miles | 2007-02-15 |
| Greens Basin Trail - Big Cottonwood Canyon | Wasatch Canyons | 3 | 2.9 miles | 2007-02-01 |
| Alexander Spring, Sheep Trail - Salt Lake County | Wasatch Canyons | 1 | 5.3 miles | 2007-01-18 |
| USA Bowl - Big Cottonwood Canyon | Wasatch Canyons | 1 | 3.4 miles | 2007-01-04 |
| Fisher Towers Trail - Colorado Riverway Recreation Area | Southeast Utah | 3 | 4.5 miles | 2006-12-28 |
| Soapstone Basin - Mirror Lake Highway | Northeast Utah/ Uintas | 3 | 6 miles | 2006-12-21 |
| Scotts Pass - Big Cottonwood Canyon | Wasatch Canyons | 1 | 4 miles | 2006-12-14 |
| Cassidy Arch Trail - Capitol Reef National Park | Southern Utah | 5 | 3.5 miles | 2006-12-07 |
| Mill D North Fork Trail to Dog Lake - Big Cottonwood Canyon | Wasatch Canyons | 3 | 4.6 miles | 2006-11-30 |
| Alta - Brighton Trail, Grizzly Gulch | Wasatch Canyons | 3 | 4.2 miles | 2006-11-23 |
| Loop trail, Stansbury Mountains - Tooele County | West Desert | 5 | 8.5 miles | 2006-11-16 |
| Mill B North Fork Trail - Big Cottonwood Canyon | Wasatch Canyons | 5 | 5 miles | 2006-11-09 |
| Mueller Park Trail - Davis County | Northern Utah | 2 | 7 miles | 2006-11-02 |
| Mill D North Fork Trail - Big Cottonwood Canyon | Wasatch Canyons | 3 | 7.5 miles | 2006-10-26 |
| Mineral Fork Trail - Big Cottonwood Canyon | Wasatch Canyons | 5 | 6.2 miles | 2006-10-19 |
| Deseret Peak Trail - Tooele County | West Desert | 4 | 8.7 | 2006-10-12 |
| Catherine Pass to Sunset Peak Trail - Little Cottonwood Canyon | Wasatch Canyons | 3 | 4.4 miles | 2006-10-05 |
| Dry Creek Trail - Utah County | Central Utah | 4 | 7 miles | 2006-09-28 |
| White Rim Overlook - Canyonlands National Park, Island in the Sky District | Southeast Utah | 1 | 1.75 miles | 2006-09-21 |
| Naomi Peak Trail - Cache County | Northern Utah | 2 | 6.5 miles | 2006-09-14 |
| White Pine Lake Trail - Little Cottonwood Canyon | Wasatch Canyons | 2 | 10 miles | 2006-09-07 |
| Cecret Lake Trail - Little Cottonwood Canyon | Wasatch Canyons | 1 | 2 | 2006-08-24 |
| Clyde Lake (Crystal Lake Trails) - Summit County | Northeast Utah/ Uintas | 1 | 4 miles | 2006-08-17 |
| Butler Fork Trail - Big Cottonwood Canyon | Wasatch Canyons | 3 | 7.2 miles | 2006-08-10 |
| Maybird Trail - Little Cottonwood Canyon | Wasatch Canyons | 3 | 7 miles | 2006-08-03 |
| Silver Lake Trail | Central Utah | 3 | 4.75 miles | 2006-07-27 |
| Lake Blanche Trail - Big Cottonwood Canyon | Wasatch Canyons | 3 | 6.5 miles | 2006-07-20 |
| South Willow Lake Trail | West Desert | 3 | 7 miles | 2006-07-13 |
| Ensign Peak Trail | Wasatch Canyons | 1 | 1 mile | 2006-07-06 |
| Medina Flat Trail | West Desert | 1 | 4.5 miles | 2006-06-29 |
| Killyon Canyon Trail | Wasatch Canyons | 3 | 6 miles | 2006-06-22 |
| Indian Trail | Northern Utah | 3 | 4.3 miles | 2006-06-15 |
| Taylor Canyon Trail | Northern Utah | 3 | 4.70 miles | 2006-06-08 |
| Adams Canyon Trail | Northern Utah | 4 | 3.75 miles | 2006-06-01 |
| Waterfall Canyon Trail | Northern Utah | 4 | 2.90 miles | 2006-05-25 |
| Corona Arch Trail | Southeast Utah | 2 | 2.5 miles | 2006-05-18 |
| Farmington Canyon/Sunset Trail | Northern Utah | 2 | 3.8 miles | 2006-05-11 |
| Parrish Creek Trail | Northern Utah | 3 | 4.5 miles | 2006-05-04 |
| Stansbury Island Mountain Bike Trail | Wasatch Canyons | 1 | 4.8 miles | 2006-04-27 |
| White Rock Loop and Elephant Head Trail - Antelope Island State Park | Northern Utah | 1 | 8.7 miles | 2006-04-20 |
| Big Beacon (Mt. Wire) - Wasatch Front | Wasatch Canyons | 3 | 4.25 miles | 2006-04-13 |
| Shoreline Trail (Dry Creek access) - Wasatch Front | Wasatch Canyons | 2 | 4.5 miles | 2006-04-06 |
| Days Fork Trail - Big Cottonwood Canyon | Wasatch Canyons | 3 | 4 miles | 2006-03-30 |
| Red Pine Lake Trail - Little Cottonwood Canyon | Wasatch Canyons | 3 | 6.18 miles | 2006-03-23 |
| Neffs Canyon Trail - Wildcat Ridge Wasatch | Wasatch Canyons | 5 | 5 miles | 2006-03-16 |
| Great Gallery, Horseshoe Canyon | Southeast Utah | 3 | 6.5 miles | 2006-03-09 |
| Kenney Creek Trail - Mueller Park in Bountiful | Northern Utah | 5 | 4 miles | 2006-03-02 |
| Hidden Pinyon Trail - Snow Canyon State Park | Southern Utah | 3 | 1.5 miles | 2006-02-23 |
| Porter Fork Trail - Mill Creek Canyon | Wasatch Canyons | 3 | 5.2 miles | 2006-02-16 |
| Wheeler Creek Trail - Cache National Forest | Northern Utah | 3 | 4.75 miles | 2006-02-09 |
| Solitude Nordic Center - Big Cottonwood Canyon | Wasatch Canyons | 1 | 20 kilometers of ski track; 10k of snowshoe trail | 2006-02-02 |
| Alpine Loop Road - Uinta National Forest | Central Utah | 3 | 5.7 miles | 2006-01-26 |
| Beaver Creek Trail, Wasatch-Cache National Forest | Northeast Utah/ Uintas | 1 | 12 miles for entire stretch | 2006-01-19 |
| Pipeline Trail - Mill Creek Canyon | Wasatch Canyons | 1 | 5 miles | 2006-01-12 |
| Emerald Pools, Zion National Park | Southern Utah | 3 | 1.2 to Lower, 2 to Middle, 0.6 to Upper from Midd | 2006-01-05 |
| Donkey Ridge Trail - Wasatch Mountain State Park | Northeast Utah/ Uintas | 1 | 3 miles | 2005-12-29 |
| Mormon Pioneer Trail - East Canyon | Wasatch Canyons | 1 | 4.5 miles | 2005-12-22 |
| Hickman Bridge - Capitol Reef National Park | Southern Utah | 3 | 2 miles | 2005-12-15 |
| Terraces Trail - Mill Creek Canyon | Wasatch Canyons | 3 | From turn around, 3 miles | 2005-12-08 |
| City Creek Trail - City Creek Canyon | Wasatch Canyons | 1 | 5.5 miles | 2005-12-01 |
| Ferguson Canyon - Wasatch Front | Wasatch Canyons | 3 | 3.5 miles | 2005-11-24 |
| Avenues Twin Peaks - Wasatch Front | Wasatch Canyons | 3 | 4 miles | 2005-11-17 |
| Bell Canyon Trail - Bells Canyon | Wasatch Canyons | 1 | 3 miles | 2005-11-10 |
| Rattlesnake Gulch and Pipeline Trails - Mill Creek Canyon | Wasatch Canyons | 3 | 3.8 miles | 2005-11-03 |
| Frary Peak, Antelope Island State Park | Northern Utah | 3 | 6.5 miles | 2005-10-27 |
| Sentry Peak, Antelope Island State Park | Northern Utah | 3 | 7 miles | 2005-10-20 |
| Mount Olympus Trail - Mount Olympus Wilderness area | Wasatch Canyons | 5 | 7 miles | 2005-10-13 |
| Dog Lake - Mill Creek Canyon | Wasatch Canyons | 3 | 5 miles | 2005-10-06 |
| Twin Lakes Reservoir, Solitude Lake and Silver Lake - Big Cottonwood Canyon | Wasatch Canyons | 3 | 4.8 miles | 2005-09-29 |
| Grandeur Peak, Mill Creek Canyon | Wasatch Canyons | 5 | 6.5 miles | 2005-09-22 |
| Snake Creek Pass - Big Cottonwood Canyon | Wasatch Canyons | 3 | 4.5 miles | 2005-09-15 |
| Mormon Pioneer Trail - East Canyon drainage | Northeast Utah/ Uintas | 1 | 4 miles | 2005-09-08 |
| Lambs Canyon Trail - Lambs Canyon | Wasatch Canyons | 3 | 3 1/4 miles | 2005-09-01 |
| Lake Mary/Martha/Catherine and Dog Lake Trail - Big Cottonwood Canyon | Wasatch Canyons | 3 | 4.2 mile | 2005-08-25 |
| Willow Heights Trail, Big Cottonwood Canyon | Wasatch Canyons | 3 | 1 1/2 miles | 2005-08-18 |
| Desolation Trail to Salt Lake Overlook, Mill Creek | Wasatch Canyons | 3 | 4 miles | 2005-08-11 |
Brown Duck Trail - Uinta Mountains in the Ashley National Forest
Region: Northeast Utah/ Uintas
Destination: Meadow
Distance: 7.5 miles
Time: 4 hours
Elevation Gain: 1,089 feet
Dog Allowed: Yes
Restrooms: Yes
Biking:
GPS Location: 40.5730019, -110.5146061
Difficulty: 3
First published 2008-07-03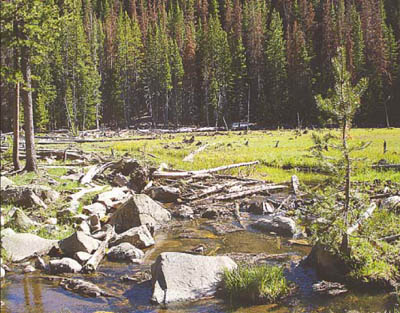 This hike takes you through tall pine, spruce and fir until you reach a marshy meadow. From the trailhead, be prepared to share the route with horses and mules. At about 2 miles, Brown Duck Creek runs parallel with the trail. Shortly after you cross a second small bridge, a switchback takes you to the ridge top. There, about 3 1/2 miles from the trailhead, you will have a good view of Moon Lake. The final quarter mile to the meadow mostly is downhill. If you are equipped and fit enough, you can can go another 3 1/2 miles to Brown Duck Lake. Look for elk and moose throughout the hike. Fees: None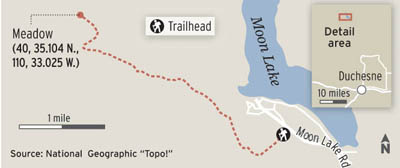 Getting there: From Duchesne, take State Road 87 north for about 32 miles. The trail head is on the left side of the road as part of a large, gravel pullout area for horses and vehicles. You will see campgrounds on the opposite side of the road.
-- Photo and text by Nate Carlisle, graphic by Amy Lewis/The Salt Lake Tribune